Democratic presidential candidate Joe Biden has said he'd "welcome, encourage, and see nothing but positive benefits" from Chinese direct investment in the U.S., the primary avenue whereby the Chinese Communist Party (CCP) takes control of U.S. companies and engages in intellectual property theft.
The remarks – uncovered from a 2011 Sichuan University speech – solidify Biden as a foe of U.S. businesses and ally of the CCP in its quest for global economic dominance.
Biden, who's insisted "China's rise isn't our demise," commented at the time: "President Obama and I, we welcome, encourage and see nothing but positive benefits flowing from direct investment in the United States from Chinese businesses and Chinese entities.  It means jobs.  It means American jobs." This follows him advocating for Chinese expansion into "all levels of [U.S.] government, classrooms, laboratories, athletic fields, boardrooms" and even the military in the same 50-minute speech.
Biden is referring to "foreign direct investment" (FDI), a euphemism for the process that allows foreign nations – chiefly China – to pour capital into U.S. companies in exchange for ownership, influence, and profit. It's defined as an "enterprise designed to acquire a controlling interest in [a foreign] enterprise."
FDI under the CCP, however, is not a boon to the U.S. economy as Biden and his neo-liberal counterparts preach.
The U.S.-China Economic and Security Review Commission's 2019 Report identified FDI – an industry worth tens of billions of dollars – as a tactic where "the Chinese government directs Chinese firms to invest in and acquire U.S. companies and assets in order to obtain cutting-edge technologies and IP, fostering technology transfer in strategic industries."
"The Chinese government directs and unfairly facilitates the systematic investment in, and acquisition of, U.S. companies and assets by Chinese companies," the report continues.
FDI has allowed for China to penetrate sizable sects of the defense industry: 97 percent of the U.S. unmanned aerial systems market and nearly 75 percent of the commercial drone market are dominated by Chinese firms.
Even the Department of Defense (DOD) has identified the practice as a threat, noting "there is no question that [the U.S.] has adversarial capital coming into our markets for nefarious means."
Despite these clear drawbacks, FDI gained massive traction during the Obama-Biden years, increasing almost every year of the administration. In contrast, FDI has hit record-lows under President Trump in both money invested and number of transactions, and this trend is expected to continue.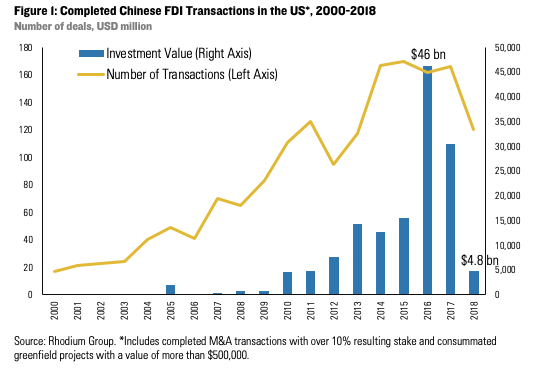 And even if a company is allegedly privately-owned in China, the CCP has the final say, as Chinese law dictates: "any [Chinese] organization or [Chinese] citizen shall support, assist, and cooperate with state intelligence work in accordance with the law, and maintain the secrecy of all knowledge of state intelligence work."
In other words, the CCP can legally requisition any citizen at any time in any place to assist with any party aim. And it does.
A study published under the former veep's own International Trade Commission three months before his speech "estimated that if IP protection in just China were improved to a level comparable to that in the United States, the U.S. economy would obtain an estimated $107 billion in additional annual sales and net U.S. employment could increase by 2.1-million jobs." Even the location of Biden's speech, Sichuan University is a CCP funded and controlled institution administrated by high-ranking party apparatchiks with a track record of intellectual property theft.
Joe Biden's son Hunter demonstrates the other fallbacks of FDI: loss of U.S. jobs.
Hunter's Chinese investment fund spearheaded an FDI deal between U.S. automotive company Henniges and Chinese company AVIC, "the biggest Chinese investment into US automotive manufacturing assets to date." Once AVIC subsumed Henniges, gaining technology with potential military applications, U.S.-based expansion came to a halt. Instead, the company opted to open up several factories in China and five other countries, taking jobs, profit, and capital overseas.
Even Max Baucus, Biden's pick for Ambassador to China who insisted "Biden will not publicly criticize China nearly as much" is involved with FDI. Leveraging the connections he procured as Ambassador, Baucus now sits on the board Ingram Micro enabling the U.S. technology company to be subsumed by Tianjin Tianhai Investment, a subsidiary of the HNA Group the CCP is reportedly "nearing a takeover" of.
Even Congress has noticed: Representative Jim Banks, who likened FDI to "predation," drafted legislation that would grant greater authority to the FDI oversight body to probe and review investment from companies tied to the CCP. The bill also seeks to remedy another loophole: CCP-linked companies can currently "own over 51 percent of shares in critical infrastructure, organizations engaged in production and dissemination of news media, or entities otherwise determined to be critical to national security, critical infrastructure, or culturally significant by the president."
Other countries including India have even cracked down on CCP-fueled FDI citing security risks.
Despite this global worry, Biden maintains throughout the speech:
"in the interest of the world that we increase the interaction between not only our business community, but our economies writ large."
FDI – just the tip of the iceberg of the CCP's economic exploitation – clearly demonstrates otherwise.
The CCP has motive to infiltrate U.S. businesses at great cost to U.S. workers, and Biden is keen on granting them the means to do so.