In a blistering display of hypocrisy, a Democratic Congressman's senior staffer used the n-word over twenty times in the space of four months, as well as sharing a number of other anti-Indian, anti-Asian, and anti-gay slurs. The individual – who refused to comment for this story – has referred to Speaker Nancy Pelosi as "a close personal friend" on social media.
Steven Horsford (D-NV4) has repeatedly slammed the Trump administration over what he claims is "racism" or "anti-LGBT" policies.
Meanwhile, Shelbie Bostedt, who has served as the two-term African-American Congressman's Press Secretary since June 2019, has tweeted the word "n*gga" or "n*ggas" over 20 times, as well as tweeting the hashtag "#DirtyMexicans."
Bostedt has mocked Indian accents and taken particular aim at Asians, in a series of tweets dating back to 2013.
"THERE IS AN ASIAN BRIGADE IN MCCARRAN. I REPEAT: ASIAN BRIGADE," she tweeted, and in another racially motivated attack, said of Asian classmates: "There are almost too many stereotypes to count."
Bostedt has also referred to thing with the pejorative use of "gay" and "super homo".
The Democrat staffer has worked for the left-wing Foreign Policy magazine, the Chicago Tribune, and is currently enrolled in a Master's programme at Johns Hopkins University in Washington, D.C.
When contacted for this story, Ms. Bostedt refused to respond and instead set her social media accounts to "private" mode: an arguably odd thing to do for a press secretary.
In recent weeks Bostedt has insisted that President Trump is an "overt racist" and tweeted ostensible support of the Black Lives Matter (BLM) movement.
Her boss, Rep. Horsford has also been quick to condemn the United States as teeming with institutional racism, even co-sponsoring for a commission to study the phenomenon, perhaps he ought to look at his own office before lecturing the rest of the country.
In a 2019 Facebook post, Bostedt referred to Speaker Nancy Pelosi as her "close personal friend" and shared a picture from the Speaker's private balcony in the U.S. Capitol building.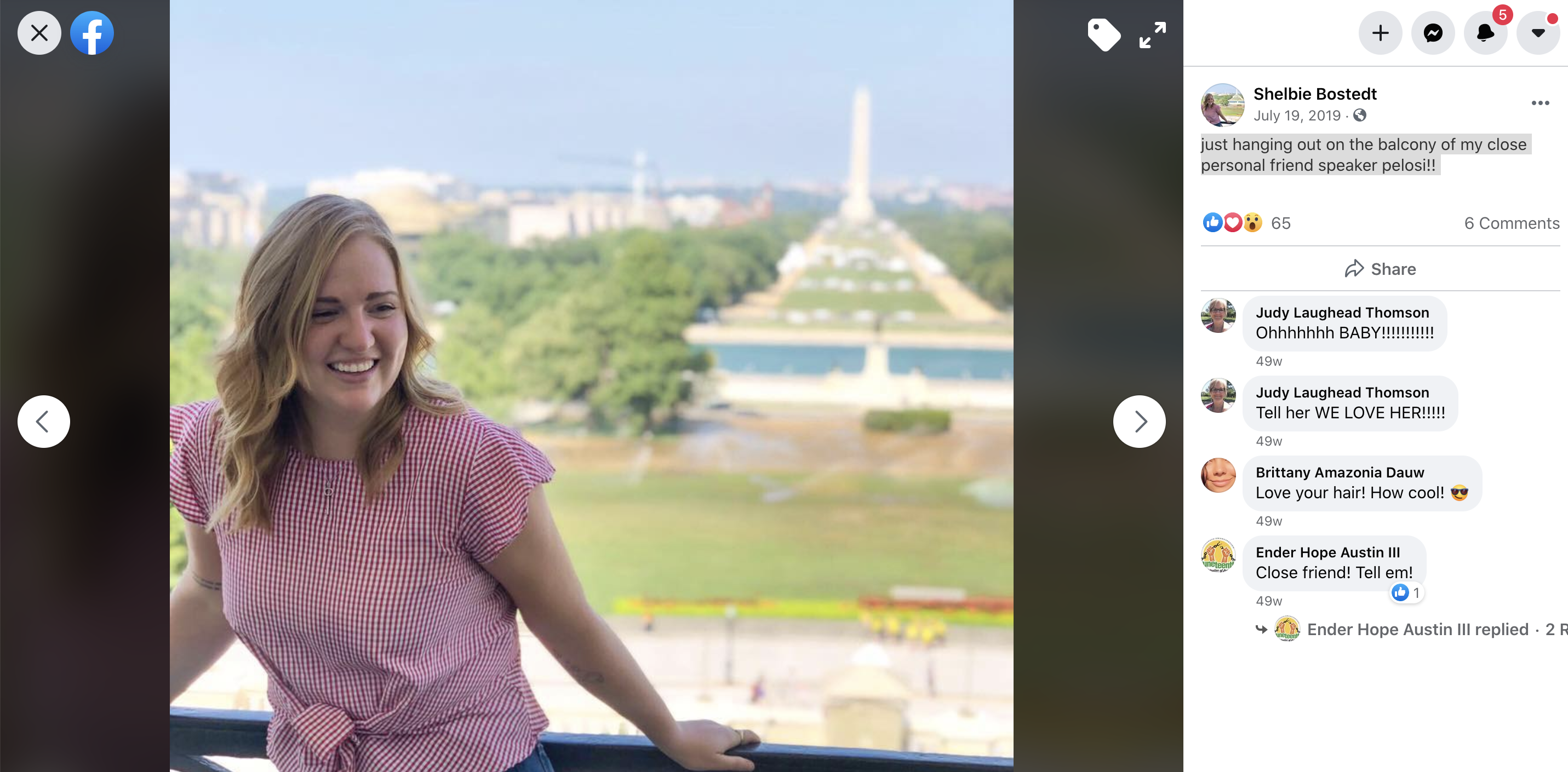 BOSTEDT'S HATEFUL POSTS.
In JUNE 2012 she responsed to "stop sleeping in the bathroom f*ggot," Bostedt tweeted "y'all n*ggas need 2 stop talkin shit." The most recent tweet of the 20 that exist reads "NIGGA U A MEXICAN DON'T EVEN RIVERA."
In 2013 instances of racially-charged language, the Dem staffer include the hashtag "dirty mexican," "Presenting in Biology with an Indian accent," and "THERE IS AN ASIAN BRIGADE IN MCCARRAN. I REPEAT: ASIAN BRIGADE." Bostedt also shared: "Asian kids in my lounge listening to classical music and doing their engineering homework. There are almost too many stereotypes to count.
Concerning sexuality-related slurs, Bostedt has pejoratively labeled many things as "gay" and "super homo"– an action deemed impermissible and "homophobic" by the modern left. Despite this, Rep. Horsford has attacked the Trump administration for being anti-LGBTQ and has touted his "perfect 100 rating" from Human Rights Campaign, the largest advocacy group for the demographic in the U.S.
She's also tweeted "IS THIS GUY GAY OR JUST ANGRY" and "Nobody can dance like a gay boy can."
These unearthed comments shine a light on the pervasive hypocrisy of the Democratic party and a testament to why the party has no place or moral authority to lecture conservatives on race.
In June 2020, a USA Today "Fact Check" revealed that Democrats "protesting" while wearing the Kente Cloth were in fact wearing the garb of slave owners and traders from Africa, confirming The National Pulse's exclusive reporting on the matter.