The Trump administration's decision to "terminate" Fulbright exchange programs occurring in China will stop a cycle where, following the program, scholarship recipients frequently peddle Chinese Communist Party talking points in state-run media and American classrooms. 
The National Pulse can exclusively reveal details of Fulbright grant recipients campaigning AGAINST the U.S., on the American taxpayer dime.
Subsidized by taxpayers and administered by the Department of State, the prestigious scholarship is "the largest U.S. exchange program offering research, study and teaching opportunities in over 140 countries" – one of which includes China.
The latest Executive Order, issued in response to the Chinese Communist Party's (CCP) crackdown on Hong Kong, vows to:
"…take steps to terminate the Fulbright exchange program with regard to China and Hong Kong with respect to future exchanges for participants traveling both from and to China or Hong Kong."
RUNNING DOGS.
Beyond subjecting American students to propaganda teeming in CCP-run universities, increased academic collaboration between the two countries lays the groundwork for intellectual property theft and espionage.
At least two Fulbright grant recipients who, after completing their studies in China, have become contributors to state-run propaganda outlets – or "running dogs" – and brought Beijing's talking points to American classrooms, the National Pulse can exclusively reveal.
Professor of Politics and Director of Asian Studies at California State University San Francisco Professor (CSUS) James Rae has declared he's opposed to "countering China's rise" and "advised" current Chinese President Xi Jinping "on China's social and economic development" in 2012. He's also a two-time recipient of the Fulbright grant: Rae participated in the program at China Foreign Affairs University in Beijing from 2011 to 2013 and at Beijing Foreign Studies University from 2017 to 2018.
And the positions Rae amassed at taxpayer expense are the same credentials he now touts in his China Global Television Network (CGTN) columnist bio:

He's been a "useful idiot" for CCP narratives on state-run media, depicting China as a victim of U.S. exploitation insisting it "always intentionally or implicitly cast a downward glance at its Chinese counterpart, often dismissing the 5,000-year civilization history or becoming blinded by ideological animosity to the "people's republic" on China Global Television Network (CGTN), a registered foreign agent in the U.S.
Rae has even amplified the CCP's position on Hong Kong, at odds with the U.S. government: "disputing China's sovereignty is a non-starter; the territorial integrity of China's political body is untouchable." Adding, "some have claimed this to be a humanitarian crisis. It is not. The endgame is still the same. Hong Kong is part of China, protesters calling for independence have a hopeless and naive perspective."
He's assisted in the CCP'S quest of attacking the Trump administration's coronavirus response to deflect blame for the virus it spawned and spread. Rae argued linking coronavirus to Wuhan is merely a "conspiracy," peddled by Republicans to cover for the party's "ineffective national leadership, particularly by President Trump," even alleging his virus response was tainted by America's "structural racism" on CGTN.
Rae has also denounced the President for "lacking a clear and coherent ideology, technocratic knowledge and policy sensibilities, or organized and disciplined priorities" and believes actions and policies that "counter China's rise does not make America great again but rather creates chaos and insecurity."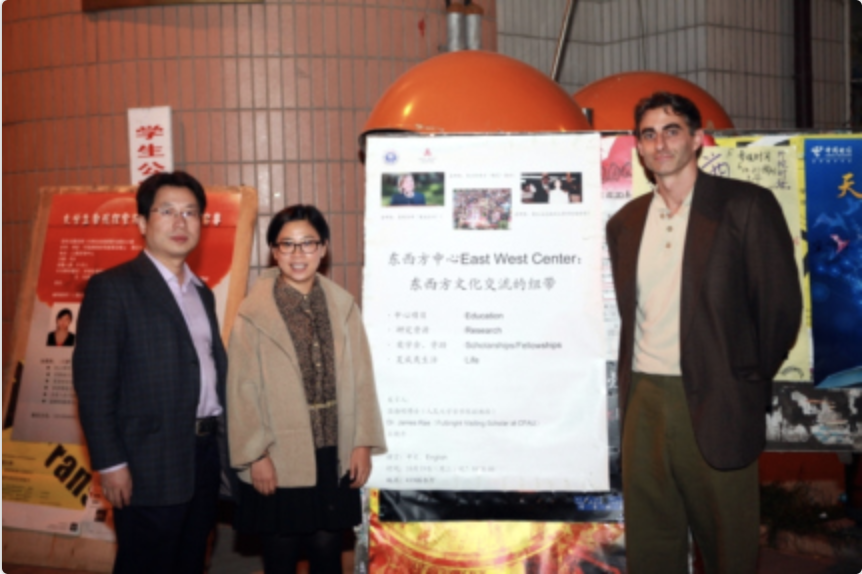 And his anti-U.S. rhetoric is not limited to President Trump:
"Does the Chinese military operate overtly and clandestinely in over 130 countries in the world? Does the Chinese government launch interventionist wars, support regime change in sovereign UN member states, and promote the downfall of legitimate governments on a global scale?  Does China control the world's most powerful banks and international financial institutions? Is Chinese culture seen as permeating and threatening local and national traditions around the world? Are Chinese media companies able to dominate the global narrative and set the agenda for the world to follow? Does the Chinese government choose to interfere in the domestic social and political issues of other countries?
The answer is a resounding "No!" Of course, anyone easily recognizes this simple portrait of American hegemonic dominance in the contemporary world; a perch it has held for nearly three-quarters of a century."
And through CCP-backed initiatives like Belt and Road and Made in China 2025, many of the charges he pins on the U.S. government have become China's go-to tactics for expanding global influence.
But Rae goes a step further than just condemning the U.S., he insists China is superior in various respects:
"The American very modest welfare state could not take care of 1.3 billion people, so it's an enormous task to expect."
He's "impressed" China "has nationwide affordable healthcare" and remarks "the education system is really quite extraordinary."
And this worldview, ostensibly influenced by his time studying in China, also influences his teaching.
He's described China's ascent to power as a "peaceful rise," insisting it needs a "stronger military to defend its economic interests," during a lecture on "speed bumps on China's road to modernization":
Another individual who's part of the Fulbright to Chinese state media revolving door is Dennis Hickey, a professor of political science at Missouri State University.
Hickey has penned op-eds for China Daily, a registered foreign agent in light of its state-run status. In 2008, Hickey was a Fulbright Exchange Scholar at the Beijing-Based China Foreign Affairs University.
Now, Hickey writes op-eds such as "It's time US took a leaf out of China's book" in which he attacks Hong Kong protestors and U.S. politicians for treating China like a "threat." He adds that the U.S. "should follow China's example" on the economy by launching "a new war on poverty."
In another op-ed, "China's contributions to global health considerable," Hickey extolls China's conduct in global organizations such as the World Health Organization (WHO), a body China notoriously pressured to delay issuing a pandemic warning or notifying the world of the novel coronavirus' transmission pathways. Despite this coverup, Hickey hails China's healthcare system as "truly remarkable and deserving of study," and concludes "one fact is perfectly clear": "in the future, China will play an increasingly important role in shaping the contours of global health."
The Fulbright programs now being terminated by President Trump have clearly been used – at U.S. expense – to campaign against the United States and in favor of the Chinese Communist Party.