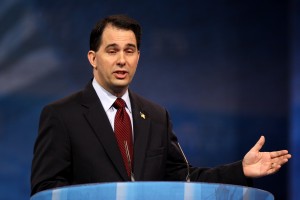 Maggie, LifeSiteNews just pointed out that NARAL is launching a full-page ad in the Des Moines Register, of all places, saying Scott Walker can't be trusted on abortion:
NARAL is so concerned Walker could become the nominee and win the 2016 election over Hillary Clinton that it's taken out a full-page ad in the Des Moines Register, home of the first-in-the-nation Republican caucus, attacking Walker. Here's more form [sic] the left-wing Madison newspaper:

An abortion rights group is telling Iowans that Gov. Scott Walker "will never be honest with you" about his record on abortion, according to a full-page advertisement in Thursday's Des Moines Register.
I wonder why a national group is so concerned about Iowa?  Along with the Common Core supporters' decision to do Iowa ads featuring Bill Bennett on what a wonderful idea the Common Core is, this may represent a new trend.  Is it a new way to influence presidential campaigns?  Did this happen last time around?
Paul Dupont is a legislative assistant at American Principles in Action.