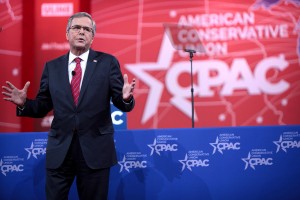 Jeb Bush is trying to paint himself as a champion of federalism in his support of Common Core and the reauthorization of No Child Left Behind.  There is a group that is helping develop that narrative in Iowa as well.
What does Bush suggest the federal role in education be?  He outlines it in an op-ed he wrote for the Washington Post:
The federal government's role in elementary and secondary education should be limited: It should work to create transparency so that parents can see how their local schools measure up; it should support policies that have a proven record; and it should make sure states can't ignore students who need extra help. That's it.
That's it?
That vision is far from limited.  How will the federal government work to create transparency?  What mandates will it impose to accomplish this?  What happens if a school doesn't "measure up" in Bush's estimation?
Who decides what policies are "proven"?  What kind of meddling could be introduced as a result of the U.S. Department of Education's pet project?  Isn't that what led to the Fed's involvement in Common Core which Bush now bemoans?
In one written paragraph Bush outlines a vision for federal involvement in education that is simply enormous and unconstitutional.
Shane Vander Hart is the online communications manager for American Principles in Action, a frequent contributor toTruthInAmericanEducation.com, and the editor of Iowa-based CaffeinatedThoughts.com.