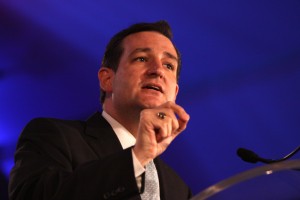 U.S. Senator Ted Cruz (R-TX) while in my home state of Iowa told a group at Morningside College in Sioux City, IA that, if the Supreme Court rules against state constitutional amendments defining marriage in a case currently before them, he would prod Congress to strip the court of its jurisdiction over that issue.  It is a tool that Congress has applied before in the past to address the problem of a runaway court.
It is a concrete step that Congress can take to push the issue back to the states.  Cruz also suggested a constitutional amendment that would clarify the power of the state legislatures to define marriage.
Contrast this response with the those who didn't even take the time to sign a "friend of the court" brief urging the Supreme Court to uphold the ban.  U.S. Senators Marco Rubio (R-FL) and Rand Paul (R-KY) were off that list.
They were not the only ones.  Indiana Governor Mike Pence, who flip-flopped on his state's RFRA law, was also absent from a brief signed by 15 Republican governors.  Also, RNC Chair Reince Preibus was MIA from a brief signed by members of the 2012 Republican National Convention Platform Committee.
The silence on this issue in certain corners is deafening and disappointing.
Shane Vander Hart is the online communications manager for American Principles in Action, a frequent contributor to TruthInAmericanEducation.com, and the editor of Iowa-based CaffeinatedThoughts.com.