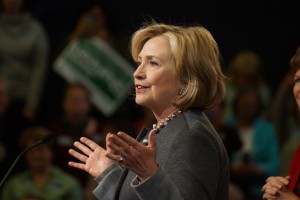 Last week, GOP Senator, and newly announced presidential candidate, Rand Paul (R-Kentucky) suggested to reporters that they ask Debbie Wasserman-Schultz, the Chair of the Democratic National Committee, if she supported the idea of aborting a "seven-pound baby."
Wasserman-Schultz quickly fired off the following response hoping to change the narrative:
Here's an answer. I support letting women and their doctors make this decision without government getting involved. Period. End of story.

Now your turn, Senator Paul. We know you want to allow government officials like yourself to make this decision for women—but do you stand by your opposition to any exceptions, even when it comes to rape, incest, or life of the mother? Or do we just have different definitions of 'personal liberty'? And I'd appreciate it if you could respond without 'shushing' me.
Instead of changing the narrative, the DNC Chair did more damage by essentially admitting that she supports abortion, on-demand, at all stages of pregnancy—including late-term abortion.
For someone who claims to speak and advocate for women, her extreme stance on abortion is deeply troubling.
The majority of American women strongly favor abortion restrictions, with a whopping 60 percent of women adamantly against third trimester abortions—the very type of abortion that Debbie Wasserman-Schultz is in favor of.
That begs the question: is legally aborting a fully-grown, nearly born child the official stance of the Democratic Party? If the Democratic Party does in fact stand with Wasserman-Schultz, that would mean that they support the brutal abortion of a ready-to-be born, 7-pound child, and abortion on-demand up to birth.
Now that Hillary Clinton has entered the race as the sole Democratic presidential candidate, it is important for her to clarify her position on abortion and therefore clarify the position of the Democratic Party.
The media has been far too quiet on this issue. It's time for the truth. The American people want to know: does Hillary Clinton support the extreme position of the DNC?
Kate Bryan is the Director of Communications for American Principles in Action.