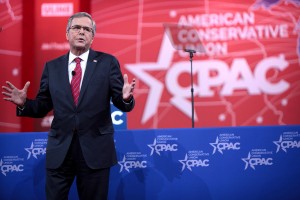 Jeb Bush has a problem.
That's the prognosis that came out of Quinnipiac's latest Iowa poll, which showed Jeb in an abysmal 7th place.  Granted, it's not common for the "establishment" candidate to win first place in the state, but when just 5 percent of Republicans admit they'll vote for you, it's time to ask what is dragging you down.  The answer, according to an article by World Net Daily, is Common Core:
According to a top Iowa Republican cited by Politico, Common Core is the "No. 1 issue Bush faces in Iowa with caucusgoers" and Common Core's unpopularity with suburban Republican women is likely to hurt his efforts in New Hampshire as well.

That's not surprising, according to legendary Republican activist and commentator Phyllis Schlafly. The author of "Who Killed the American Family?" told WND, "Common Core has become the hottest grassroots issue, as parents and teachers realize how bad this is for our kids. This is one of the pressing issues that presidential contenders will have to address."
The article also pointed to another poll showing that Common Core was "wildly unpopular" in not just Iowa, but New Hampshire, and contended that "[i]n fact, Bush's consistent record on Common Core may be doing him more harm than good."
NBC, in a recent poll of "self described conservatives," concurs, noting that Bush has a low favorability ranking among conservatives, as compared to other candidates:
Rubio: 41%-8% (+33)
Walker: 31%-4% (+27)
Paul: 38%-15% (+23)
Cruz: 36%-13% (+23)
Bush: 33%-28% (+5)
Their conclusion? "He's struggling with conservatives, big time."  While it should be noted that the poll also showed Jeb with a much better rating among a broad set of GOP voters who "could see themselves voting" for him (70%-27%) his problems with conservatives wary of Common Core may sink his campaign long before others can give him that consideration.
Nick Arnold is a researcher for American Principles in Action.