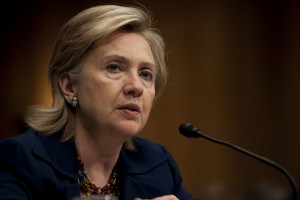 Over the last few weeks, there has been much attention dedicated to Republican candidates' "evolution" on the issue of immigration, particularly Scott Walker.  However, Chris Christie and Marco Rubio have also received coverage for comments which suggest they have revised their immigration stances as the 2016 primaries draw closer.
By contrast, relatively little attention has been paid to Hillary Clinton's past views on the issue.  Sure, she received a great deal of press from her announcement of her immigration plan earlier this month, in which she called for a path to citizenship for undocumented immigrants and expressed support for President Obama's executive actions as well as suggesting she would expand deportation protections even further.  However, some digging into Clinton's past statements reveals she has not always been the same outspoken champion for immigrants she now claims to be.
As columnist Ruben Navarette points out in a recent op-ed for The San Diego Union-Tribune, Clinton once sounded very much like many Republicans now do on the issue:
On immigration, Hillary Clinton is a work in progress – and has been since she entered politics more than a dozen years ago. Depending on which audience she is trying to please, she assumes one of two conflicting personas: Restrictionist Hillary or Reform Hillary.

In 2003, Restrictionist Hillary told conservative radio host John Grambling that she was "adamantly against illegal immigrants" and that "we've got to do more at our borders."

In 2006, while serving in the Senate, Restrictionist Hillary told the New York Daily News that she supported more fencing along the U.S.-Mexico border because "a country that cannot control its borders is failing at one of its fundamental obligations." That same year, she voted for the Secure Fence Act, which directed the Department of Homeland Security to construct 700 miles of double border fencing.

In 2008, during a presidential debate with Barack Obama, Restrictionist Hillary tried to woo organized labor by blaming lost jobs on "employers who exploit undocumented workers and drive down wages." She mentioned an African-American man who had told her: "I used to have a lot of construction jobs, and now it just seems like the only people who get them anymore are people who are here without documentation."
Calling Clinton a "restrictionist" for supporting improved border control and expressing concern for the effect the exploitation of undocumented workers has on wages is, I think, unwarranted.  However, Navarette's overall point is sound:
…Reform Hillary celebrated Cinco de Mayo by speaking at a mostly Latino high school in Las Vegas, where she called for illegal immigrants to be given "a path to full and equal citizenship." She also accused Republicans who support legal status for the undocumented but not citizenship of pushing "second-class status."

But what was Clinton pushing? A poison pill. "Full and equal citizenship" will never get through Congress. So by setting the bar impossibly high, Reform Hillary all but ensures nothing will be done. This suits her fine because she doesn't want to be known as a pro-amnesty Democrat any more than Obama did, and she'd rather have a wedge issue than a workable solution.

[…]

What position will the likely Democratic nominee ultimately take on immigration? I don't think even she knows. What she says today could change tomorrow.

And like Obama – once the heat is turned up and divisions appear between various Democratic constituencies – she'll find it difficult to tell the truth, keep promises, remain consistent, and not betray supporters.

That is where character comes in. Does anyone know where Clinton can get some?
Ouch.  Navarette is exactly right here.  Clinton's recent statements on immigration are clear pandering, as her new positions all but guarantee she will find no common ground with Republican legislators.  Furthermore, she is now faulting Republicans for mainstream policy views which she once held not so long ago.  She will probably have a more difficult time than Walker spinning this as anything but a massive flip-flop, though fortunately for her, the press has been much slower in calling her out on it.
Not everyone has been afraid to point this out, however.  Illinois Congressman Luis Guitierrez, a member of Clinton's own party, recently called attention to her immigration "evolution" in an interview with The Huffington Post:
"Look, everybody's evolving," Gutierrez said. "I remember when Hillary — when all the children first came to the border, Hillary said 'oh, they can't just show up. They have to be sent back home.' She's not there anymore."

"You remember when Hillary — what was in 2008? Yeah, it was 2008 — and they asked Hillary a question about drivers licenses for undocumented and she was paralyzed! Oh my god," Gutierrez said before imitating the former secretary of state. "'Oh, I don't know, I don't think so.'"
It is good to see that Clinton is not completely escaping the same scrutiny that Republican candidates are facing on their past records.  Based on hers, it would seem immigration could be a major vulnerability for Hillary; that is, if any Republicans are able to take advantage of it.
Paul Dupont is a legislative assistant for American Principles in Action.