Wow, this is a great time to be a conservative.
We have a strong, diverse field in the Republican presidential primary. We are having a meaningful national discussion about important issues like education, immigration, and the economy. And now it looks like we have a very beatable opponent in Hillary Clinton.
According to a recent Gallup poll, Hillary's unfavorable rating is skyrocketing, now up to 46 percent.
That's a problem for the Democrats, and Hillary isn't helping matters. She's stumbled on the campaign trail. She won't talk to the press. She can't connect with everyday Americans.
And don't forget—she's become more associated with the word "scandal" than Olivia Pope.
Hillary is just not that great of a candidate.
That being said, the Democrats have anointed her to be the candidate. Nobody else really stands a chance, which is awesome. Now let's beat her.
By the time everyone has announced their candidacy on the GOP side, we will have more than fifteen choices for our nominee. These five candidates can absolutely beat Hillary: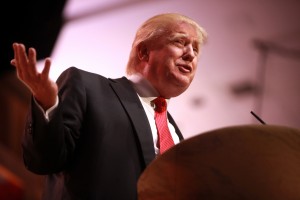 5.) Donald Trump
Look, I get it. This seems crazy. But for undecided voters, doesn't it often come down to "who would you rather have a beer with?" And let's be honest… who would you rather have a beer with than Donald Trump? He's the real-life "Most Interesting Man In The World." Why not?
Donald Trump makes his decision on June 16, and while it's more likely than not that this whole Trump candidacy is just another tease, we'll be watching.
4.) Chris Christie
Christie's first few months on the campaign trail have been pretty disappointing, but it would be a mistake to not take him seriously. He has a lot of work to do to regain his credibility with the conservative base, but he's likable, well-known, and electable. Don't forget that he overcame long odds to become a Republican Governor of New Jersey—a very blue state—and he did it twice.
3.) Rick Perry
No, I did not make an "oops" by putting Rick Perry on this list. Rick has broad appeal, a long record of economic success in Texas, and he has great charisma. He might not be a front-runner now, but give it time—we'll still be talking about Rick Perry after Iowa.
2.) Rand Paul
Rand keeps making enemies among the elite in Washington, but the rest of America seems to love him. Will that formula work? Can it deliver him Iowa? His straight-talking style would contrast wonderfully with Hillary Clinton, who is the consummate "say-nothing" politician.
1.) Marco Rubio
Marco Rubio is probably the perfect candidate to run against Hillary Clinton. What a contrast! Marco is a brilliant speaker and a true American success story who grew up in relative poverty as the son of Cuban immigrants. Hillary is the ultimate one-percenter—despite public claims to be "dead broke," the Clintons have earned more than $100 million since leaving the White House in 2001.
We have a lot of great choices for our nominee. Let's make sure we pick one that can win.
Jon Schweppe is Deputy Director of Communications for American Principles in Action.