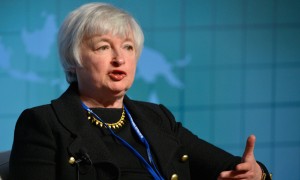 Yesterday, the Federal Reserve announced that it is maintaining its existing policy of historically low interest rates, stating that the policy "remains appropriate." When asked at the news conference about the renewal of this controversial policy and whether there is a role for congressional bills affecting Federal Reserve actions, Federal Reserve Chair Janet Yellen replied, "What's the problem?"
The Fed Chair insisted that the institution is extremely transparent and questioned what else Congress and the public could possibly want.
With Hillary Clinton making income inequality a key campaign issue, one has to wonder—will she address Yellen's stubborn insistence that the economy is just fine?
You would think she would. Clinton correctly insists that the current recovery has left behind the average American worker. Janet Yellen must disagree—how else could the current policy 'remain appropriate' when it has resulted in stagnant wages and rising prices that have negatively impacted millions of Americans?
If Clinton is serious about tackling income inequality, she should understand how critical it is for us to have a currency debate—a debate in which Janet Yellen has shown no interest. That starts with congressional oversight and complete transparency at the Federal Reserve.
Steve Lonegan is the Director of Monetary Policy for American Principles in Action.