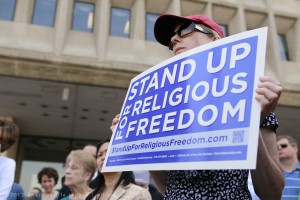 In a remarkably transparent statement in yesterday's Washington Post (the left usually prefers to camouflage their true intentions), a deputy director of the ACLU announces it is time for the RFRA to be retired.
RFRA was okay so long as it was used to defend vaguely quaint behaviors, such as the right of a Sikh not to doff his turban while participating in ROTC.  But now that RFRA is being used to defend the content of one's faith, well, that's a threat to the common good.
The ACLU objects to the Hobby Lobby decision, of course, which held that the owners of a company could not be compelled by the government to violate their religious beliefs by subsidizing contraceptives.  The ACLU objects to the Catholic Church, which is taking care of unaccompanied refugee minors, being unwilling to refer those children for abortions.  The ACLU previously sued to drive the Catholic Church out of a federal program to care for victims of human trafficking on the same grounds.
If the purpose of a federally-funded program is, inter alia, to provide abortions to unaccompanied refugee minors or victims of human trafficking, then the ACLU and their friends on the left should be willing to say so publicly.  But if the purpose is something other than providing abortions to these populations in desperate need, then there is no concern in the Catholic Church and other religiously-motivated organizations – such as the Salvation Army or the Mormon Church – serving them.  Of course, the ACLU knows all too well that the American people are overwhelmingly opposed to the federal government subsidizing abortions.
What this op-ed makes perfectly clear is that, in the view of the ACLU, docile acquiescence to the provision of contraceptives and abortions, and the enthusiastic endorsement of same-sex marriage, is a higher public good than the right to live out one's religious faith in public.  Adherence to their political orthodoxy is actually more important to the ACLU than insuring that traumatized victims of human trafficking receive the best possible care; the ACLU would rather that victims of human trafficking, or child refugees, receive inferior care if that care is provided by an organization willing to testify that abortions are fine.
The ACLU was once an organization so committed to the freedom of speech that they defended the right of Nazis to march in Skokie, Illinois.  They have now come full circle, and are seeking to use the courts to silence those religiously opposed to their political ideology.  There have been voices in the wilderness, such as The Pulse 2016's own Maggie Gallagher, who have been warning us that we are headed precisely toward such a state of intolerance.  Still, it is shocking to see the left's dystopia in print.
Steve Wagner is the founder and president of QEV Analytics, a Washington DC-based public opinion research firm.