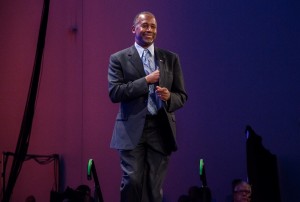 The Office of the President has a lot of perks—Air Force One, the power to sign laws, and the bully pulpit being just a few—so you'd think anyone running for the office must want it pretty bad, right?  Not so, says Dr. Ben Carson, whose rise to the top tier of candidates has been a major surprise.  He'd rather be in Florida, and not campaigning to win the primary:
"I really don't want to do this, to be honest with you," Carson, one of a dozen or so conservatives who hopes to capture the GOP presidential nomination, said to a town hall crowd of more than 100 Iowa voters on Friday. "I was looking forward to a relaxing retirement, you know, with a beautiful home in Florida by a golf course."
His plans for when he's not practicing his swings?  Catching up on pop culture!
Carson went on to describe a laundry list of things he was planning to do during his retirement, including reading books, learning to play the organ and finally watching "The Godfather" and "Rocky."

"People are always shocked. They say 'You never saw "The Godfather," you never saw "Rocky"?' I didn't have time to see that," Carson said as the crowd erupted in laughter.
Ultimately, though, Carson decided to run.  Why?  Carson explains it as a matter of faith:
When asked about how his Christian faith could influence his decisions as president, Carson explained the role his religion has played in declaring his candidacy.

"I finally said, 'Lord, I don't want to do this, but if you're going to open the doors, I will go through with it,'" he said.
Amid the celebrity treatment candidates get, we often forget that the campaign trail can be grueling: Anyone wanting even a chance at winning has to visit dozens of states over a short period of time, constantly on their guard with a media watching for even the smallest slip-up.  I can sympathize with anyone who would rather just sit back and pop in the best cinema of the '70s and '80s, but I'm glad that so many people placed duty over comfort and decided to brave the gauntlet of the Presidential race.
Nick Arnold is a researcher for American Principles in Action.