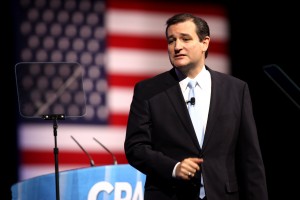 Donald Trump's campaign is off to a bad start—at least for the party, if not the candidate.  Ever since his disastrous rollout speech, the billionaire has been fending off attacks from media outlets, previously partnered corporations, and his fellow Republicans.  As Paul noted in his roundup of the controversy, almost the entire Republican field has either distanced themselves from Trump or called him out for claiming that immigrants were basically drug dealers and rapists.  One of the notable exceptions is Ted Cruz, who offered a very different take on the controversial comments.
"I salute Donald Trump for focusing on the need to address illegal immigration. The Washington cartel doesn't want to address that," Cruz said on NBC's "Meet the Press."
OK, I get it.  We all agree illegal immigration is a problem.  In fact, one of the big demands for any immigration reform package is securing the border first, but why isn't Cruz taking Trump to task for his unrepentant attitude towards immigrants?  He puts it down to party unity:
"I like Donald Trump," Cruz said Sunday. "He's bold. He's brash. And I get that it seems the favorite sport of the Washington media is to encourage some Republicans to attack other Republicans. I ain't gonna do it. I'm not interested in Republican-on-Republican violence."
Again, I get it.  Party unity is important, and the ratings-obsessed media would like nothing more than a cat fight that makes the eventual nominee weaker.  But Cruz isn't thinking this through.  In the aftermath of 2012, the Republican Party invested heavily in outreach to Hispanics who rejected them heavily that year, but in a few short weeks, Trump's brash comments have endangered years of groundwork.  Cruz and other defenders of Trump (I'm looking at you, Rick Santorum) need to ask themselves which choice will hurt the party more: some intraparty discipline or another 27 percent showing with Hispanics.
Nick Arnold is a researcher for American Principles in Action.