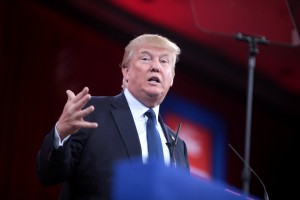 Donald Trump is taking a lot of hits from the media which loves to imagine Republicans are anti-Latino, even as GOP leaders denounce Trump's values. But who (besides us) is going to ask whether Charlie Rangel is going to return the $26,000 he's taken from Trump over the years?
Will the Democrats give back the seats Trump's money has won over the years? In the key 2006 election cycle, Trump gave three times as much money to help the Democrats win Congress as he gave to Republicans.
Talk about flip-flopping. Here, in case you were wondering, are the top six Democrats who gobbled up Trump dollars in the past. Will the media demand they return the dough?
H/T The Daily Caller:
Charlie Rangel (D-NY) – $26,250
Hillary Clinton (D-NY) – $10,200
Chuck Schumer (D-NY) – $7,900
Harry Reid (D-NV) – $7,400
John Kerry (D-MA) – $5,500
Anthony Weiner (D-NY) – $4,300
And speaking of Hillary Clinton, Trump did more than just support her campaigns.
Those donations pale in comparison to other support Trump has given the Clinton empire. It was recently revealed that he gifted the Clinton Foundation at least $100,000, according to the Clinton Foundation website. The always outspoken Trump defended the donation, saying that the Clintons "kissed [his] ass"for the dough.
Who is Donald Trump? A brilliant and successful businessman and television celebrity—whose commitment to the conservative movement and the Republican Party is only skin deep.
Jon Schweppe is Deputy Director of Communications for American Principles in Action.