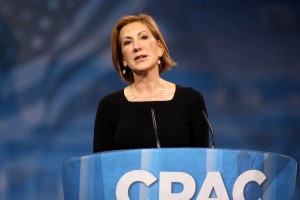 Last month, Jeb Bush promised 4 percent economic growth during his official presidential candidacy announcement. On ABC's "This Week" yesterday, Carly Fiorina also affirmed that "4 percent growth is a good goal," especially in stark contrast to "an economy that sort of putt putts along between 1 and 2 percent":
I think we need to understand what the true engine of economic growth and job creation is in this country. It has always been small businesses, new businesses, family owned businesses, community-based businesses that create two-thirds of the jobs and employ half the people. And we are now crushing those businesses. In fact, we are destroying more businesses in the United States now that are being created for the first time in our history.

Meanwhile, crony capitalism is alive and well, the big are bigger, the wealthy are getting wealthier, because with a very large powerful complicated government, which is what we have and which Democrats want more of, only the big, the powerful, the wealthy and the well connected can survive.
Fiorina also discussed her thoughts on income inequality:
Well, I think income inequality is a huge problem.

The truth is, Hillary Clinton's ideas create more income inequality. Why? Because bigger government creates crony capitalism. When you have a 70,000 page tax code, you've got to be very wealthy, very powerful, very well connected to dig your way through that tax code. So, she made to cry [sic] income inequality, what I will continue to point out is the fact that every policy she is pursuing will make income inequality worse, not better, crony capitalism even worse, not better.
Noah Muscente works for American Principles in Action.