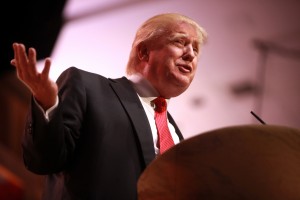 Donald Trump was in Arizona on Saturday, where he continued to defend his immigration stance despite coming under increasing fire in recent days:
"Mexico — I respect the country," Trump said in Phoenix. "They're taking our jobs, they're taking our manufacturing, they're taking our money, they're taking everything, and they're killing us at the border."

Trump, who recently called Mexican immigrants rapists and drug dealers, acknowledged: "The Mexican government is not happy with me, to put it mildly."

As he has repeatedly since the making the comments forcefully criticized by members of his own party, Trump said he respected Mexico and the Mexican people. "But their leaders are too smart for our leaders, because we have stupid leaders, OK?" he said, to cheers and chants of "U-S-A!"

He added, "Don't worry, we'll take our country back. Very soon."
The Pulse's own Alfonso Aguilar was also in Phoenix on Saturday, where he held a press conference with more than a dozen members of the Arizona Latino community directly responding to Trump.
"They are not criminals. They're not rapists. That's an insult," Aguilar told reporters. "Studies actually show that immigrants coming into the community lower crime rates. Immigration creates economic opportunity. It creates jobs for the working class."
"He's using this [campaign] as another reality show to get attention," Aguilar concluded. "He's playing with the American voters. He does not have the executive temperament to be President of the United States."