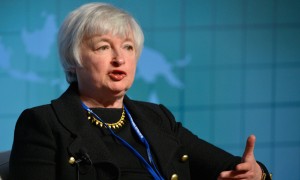 Yesterday's Fed statement is reminiscent of Goldilocks and the Three Bears. The first porridge was too hot, the second too cold. Where was the one that was just right?
The Federal Reserve has a similar quandary. It is trying to keep both inflation and unemployment low. But alas, inflation is too low and unemployment is too high. What should it do? Today the Fed answered by prolonging the paralysis and inaction.
This dilemma is called 'discretionary policy.' It has governed monetary policy for the last 40 years, yet it provides no clear direction to Fed policymakers. There must be a better system. It should be adopted soon. We must FIX THE DOLLAR.
For the first time next month, a team of leading economists and elected officials from around the world will gather in Jackson Hole, Wyoming, to analyze and challenge Fed policies. No porridge will be served.
Steve Lonegan is the Director of Monetary Policy for American Principles in Action.