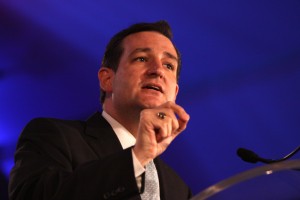 Former Governor Jeb Bush has softened his language on the Common Core national standards since his presidential campaign began, decrying the federal coercion he once defended and converting his support for Common Core into support for "high standards." But one of his fellow candidates has altered his standard stump speech to make sure Bush's Common Core support remains front and center.
On Wednesday in Memphis, Common Core opponent Sen. Ted Cruz ignored Bush's meaningless backtracking and made clear that the former Florida Governor still rides on the Common Core bandwagon. In mock tribute to Bush's consistency, Cruz said, "There are candidates in the field who attempt to change their position to do better in the primaries, and Jeb Bush has demonstrated a remarkable candor defending positions. Jeb Bush has been straightforward and consistent and candid about his embrace of amnesty and Common Core, and I respect that his is willing to stand for those principles."
How is Bush supposed to respond to this? Claim he never supported Common Core? The voluminous public record prevents that. Deny Cruz's charge of honesty and consistency? Problematic, for obvious reasons.  Bush painted himself into a corner on Common Core before he realized there would be such a backlash, and former debating champions like Cruz will make sure he doesn't escape.
Jane Robbins is an attorney and a senior fellow with American Principles in Action.