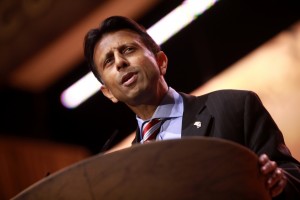 At yesterday's New Hampshire Education Summit hosted by The Seventy Four, a number of GOP candidates were forced to tackle the increasingly important campaign issue of Common Core.  Varying degrees of awkwardness ensued, particularly for Jeb Bush, who skirted around the question by talking about the need for high standards, despite the inconvenient fact that the quality of the Common Core standards is very much contested.
One candidate stood out on the issue, however: Louisiana Governor Bobby Jindal.
Jindal made by far the most compelling case against Common Core, explaining in detail how the federal government coerced the states into signing up as well as addressing why he changed his mind after originally supporting the initiative:
Gov. Jindal: I like the concept of what we thought Common Core was going to be. We were told voluntary, locally-controlled, high standards. And who's against that? … This is what Common Core has become instead—and I've got two main objections to Common Core. This first is, philosophically, I've never believed in a federal government role for making curricula or other decisions that should be done at the local and at the state level.  And so now you've got the federal government using No Child Left Behind waivers—over 40 states have waivers by the way—or funding our own tax dollars to tell states you've got to adopt these Common Core standards or you don't get your own money back or you don't get waivers.

Campbell Brown: Let me stop you for one second there, because the federal government did that from the very beginning—incentivized adoption of Common Core with federal dollars. And you still supported it for two years after, and you were taking those federal dollars.

Gov. Jindal: This was like Obamacare: you had to pass the bill to know what was in it. We didn't know, because there was no opportunity for accountability or input. In our state, for example, we believe the Department of Education didn't follow the procurement code; they didn't follow the Administrative Procedures Act. So parents thought they would have a chance to provide input. University experts thought they would have a chance to provide input. And instead, we now have math experts saying, 'this is no way to teach math.' We have parents saying, 'we weren't listened to.' We've got moms saying they were disrespected when they tried to show up and provide input, they weren't listened to.
Jindal then pivoted to a defense of local control in education:
Now, remember, we spent a lot of time talking about how parents are the most important decision-makers for their children. If we believe that about school choice, how can we turn around and say, 'well we don't want to respect and listen to those same moms when it comes to Common Core and curricula decisions.'

[…]

This is really, I think, at the root of this: we either think that parents and local communities are smart enough to adopt good standards for their kids and tough standards, or we think this will only happen if people in D.C. force us to do this because they're smarter than us and they know better than us. I just don't think that's true. I don't think that the nation's collective wisdom is in D.C.
It's difficult not to see this as a swipe at the hypocrisy of pro-Common Core Republicans such as Jeb Bush and John Kasich.  While both Bush and Kasich spent time at the summit promoting policies that they contend encourage more parental autonomy in education and decrying federal overreach, they either did not realize or chose to ignore the fact that Common Core directly undermines these goals.  Jindal's criticism is exactly on point here, even if it fails to address the additional issues of the standards' questionable quality as well as concerns with testing and student privacy.
For further information about all the GOP candidates' records on the issue of Common Core, be sure to check out our just released Common Core Report Card here.
Paul Dupont is a legislative assistant for American Principles in Action.