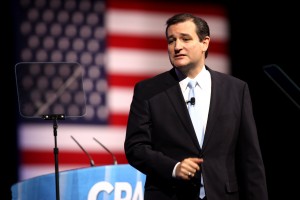 The horrific undercover Planned Parenthood videos and the nationwide protests they sparked didn't go unnoticed by one presidential candidate.  Senator Ted Cruz has just announced he's joining the American Renewal Project to implement a plan "to put a stop to this tragedy."
Cruz has sent an invitation to a list of over 100,000 influential pastors to join a conference call this Tuesday where they will discuss what they can do to counter Planned Parenthood across the nation.  In addition to a video invitation, Cruz also sent a letter urging them to dial in and saying he intends to lead an effort to defund Planned Parenthood "over the next two weeks":
Dear Pastor,

The recent exposure of Planned Parenthood's barbaric practices of harvesting the body parts of innocent babies and selling them to the highest bidder has brought about a pressing need to end tax payer support of this institution.

As the son of a pastor, I know you bear a high and holy calling on your lives. I am urging you to confront this evil in our nation by praying and preaching with an unbridled passion until funding for Planned Parenthood ends, and this barbaric practice is purged from the land.

Over the next two weeks, with the support of your prayers and the impact of your preaching, I intend to lead an effort to end taxpayer support of Planned Parenthood.

The battle we face is not political. It is spiritual. To enter this arena in a prayerless condition invites failure.  May I ask…

1. Join me for a Pastors Conference Call on August 25th  to hear how you can be a part of this effort.

2. Preach a message on August 30th calling on your people to enter into this spiritual battle for the soul of their nation.

3. Lead your people in a "Day of Prayer and Fasting" on September 9th as thousands of churches call on God, during their Wednesday night services, to move in the hearts of men and women in government to vote to end the slaughter of the innocents.

These days are challenging. Those who have faced similar challenges did so with the courage of their convictions. When Esther was called to stand on behalf of her people, she was reminded that her life was not her own, and that God had placed her at a critical point in history do be an instrument for the protection of the innocent. May we be found as faithful as she, "For such a time as this."

God bless America and God bless America's pastors as they lead the way to the healing of this nation.

Senator Ted Cruz
Nick Arnold is a researcher for American Principles in Action.