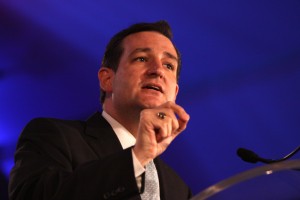 Ted Cruz has been rallying pastors to get involved in the fight to defund Planned Parenthood, and he's asking them to preach about the issue from the pulpit on Sunday.
Here's an excerpt from a suggested sermon Cruz sent out to the pastors:
Recent videos exposing the gruesome practice of Planned Parenthood's harvesting of the organs of babies from their mother's womb… There must be a point in which the accumulative error of an evil decision thrust upon the nation by secularist jurists stops… pray for your Congressman and Senators to hear from God regarding the ending of the slaughter of the innocent. Let them know that you are praying for them, and you are expecting them to do the right thing. You will no longer tolerate any excuse then they have the chance to vote to end government sponsored support of the murder and dismemberment of babies in this session of Congress. God hates it. You can stop it. For God's sake, make it happen.
The Left is freaking out because this is a potential violation of the IRS's rule that any church which "contacts, or urges the public to contact, members or employees of a legislative body for the purpose of proposing, supporting, or opposing legislation" or "advocates the adoption or rejection of legislation" risks losing its tax-exempt status.
Cruz's attitude? Screw the IRS, do it anyway.
The IRS's rule is a blatantly unconstitutional attempt to silence churches, and a lot of the time it works. But every year, over 1,500 pastors participate in Pulpit Freedom Sunday, where they preach about upcoming elections from the pulpit and dare the IRS to come after them. Not a single one has been targeted yet. Cruz's mobilization of pastors is a big step towards taking the muzzle off the church in America.
The Founding Fathers would be proud.
Thomas Valentine is a researcher for APIA and a junior at the Franciscan University of Steubenville.