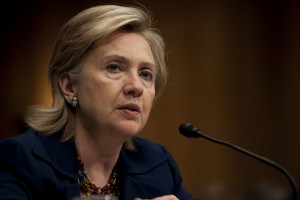 It's déjà vu for team Clinton as she loses ground against yet another upstart Senator. Bernie Sanders is dominating in Iowa and New Hampshire, according to a new set of polls by YouGov:
The new poll finds Sen. Sanders with 52% support among Democratic primary voters in New Hampshire, while former Secretary of State Clinton, long considered the front-runner for the 2016 Democratic nomination, receives 30%. Recent polls have shown Sanders' lead growing in the Granite State, but this would be the first to show the Vermont Senator over 50%.

Possibly more worrying for the Clinton campaign is her performance in Iowa, where Sanders now leads by 10 points, with 43% to Clinton's 33%.
This is big news.  I wrote last month about the major dissatisfaction in the Democratic base fueling Sanders' rise in the polls, but his rapid surge to the top has surpassed even my expectations.  There are a lot of things still working in Clinton's favor, including her massive fundraising base and support from major party players, but for the first time a Clinton coronation doesn't seem like the only possible scenario next year.  I'm officially upgrading Bernie Sanders from "long shot" to "serious contender" for the Democratic nomination.
Nick Arnold is a researcher for American Principles In Action.