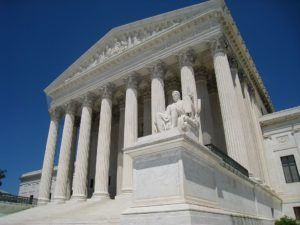 A new Gallup poll shows a sharp drop in support for the judiciary just months after the Supreme Court struck down state marriage laws across the country, bringing public trust in the third branch of government to its lowest point ever.  The shift is led, unsurprisingly, by Republicans and independents, with Democrats virtually unchanged:
In similar fashion, Republicans' trust in the judicial branch has fallen 17 percentage points since September 2014, but trust is essentially unchanged among Democrats, meaning Republicans are mostly responsible for the overall decline in trust. Independents show a modest six-point drop. Republicans' trust in the judicial branch, now at 42%, is easily the lowest for any party group in Gallup's trend.
There has also been a sharp increase in the number of people who say the Court is too liberal, again led by Republicans and independents:
Sixty-three percent of Republicans now say the Supreme Court is too liberal, up from 51% last year. Independents also show an increase in the same direction, from 28% to 35%. Meanwhile, the percentage of Democrats who describe the Supreme Court's ideology as "about right" increased by 15 points to 54%, accompanied by an equal decline in the percentage calling it "too conservative."
Overall, the number of voters describing the Supreme Court as "too liberal" has hit 37 percent.  This outstrips the number who think it's "too conservative" by 17 points.  The number saying the Court's standing is "just right" has hit a ten year low at 40 percent.  While the Court remains more popular than the executive (45 percent) or legislative (32 percent) branches, the recent drop in trust shows that Americans of all stripes are getting tired of an activist court trying to legislate from the bench.
Nick Arnold is a researcher for American Principles In Action.