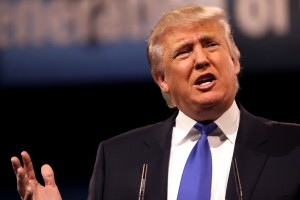 CBS released another national poll Friday, and the results are a mixed bag for Republican front runner Donald Trump.  On the surface, the new poll shows that Trump remains the favorite for the nomination, holding a 6 point lead over his nearest rival, Dr. Ben Carson, with Senator Ted Cruz moving up to a very distant third:
Donald Trump: 27%
Ben Carson: 21%
Ted Cruz: 9%
Marco Rubio: 8%
Jeb Bush: 6%
Carly Fiorina: 6%
Rand Paul: 4%
Chris Christie: 3%
Mike Huckabee: 2%
John Kasich: 2%
Rick Santorum: 1%
Bobby Jindal: <0.5%
George Pataki: <0.5%
Lindsey Graham: 0%
Jim Gilmore: 0%
By another measure, however, things look less rosy for Trump.  The CBS poll took a look at the favorability ratings of five candidates, not among Republican voters, but among the general electorate.  By this measure, Donald Trump had a net favorability rating of negative 25 percent, worse than anyone except Jeb Bush, who clocked in at a negative 28 percent.  To make matters worse, just 19 percent of voters are undecided about Trump, making it statistically impossible to reverse his net negative ratings if his other numbers hold:
Ben Carson: +12 favorability, 41% undecided
Carly Fiorina: +5 favorability, 51% undecided
Marco Rubio: +2 favorability, 46% undecided
Donald Trump: -25 favorability, 19% undecided
Jeb Bush: -28 favorability, 30% undecided
So far, Trump's favorability problems are taking a backseat to his position in the GOP nomination fight.  This makes sense since Trump would first need to win the nomination before he has to worry about his theoretical polling in the general.  Long term, though, his negative favorability will be a major obstacle for his White House bid and something he'll likely need to turn around if he hopes for a successful run.
Nick Arnold is a researcher for American Principles In Action.