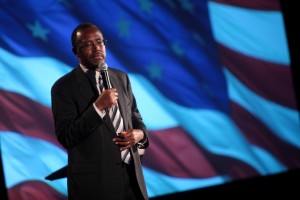 Sunday during the "Building a New Puerto Rico" 2nd Statehood Assembly in Fajardo, Puerto Rico, current Republican presidential front runner Dr. Ben Carson endorsed statehood for Puerto Rico.
"Mis hermanos Americanos, my campaign is built around the premise of We the People and through such lens I view the statehood question in Puerto Rico as settled. In 2012, the citizens of Puerto Rico strongly supported changing their status from a Commonwealth to becoming the 51st state. The results of this referendum couldn't be clearer and now is the time for Congress to support the millions of Puerto Ricans living both in Puerto Rico and on the U.S. Mainland, in their legitimate fight to become a state," Carson said.
"I stand with our American brothers and sisters in Puerto Rico in unequivocal support of Statehood for Puerto Rico and call on Congress to address this issue immediately," Carson added. "In a Carson administration, I will leave no stone unturned in my efforts to secure this important step in Puerto Rico's history—establishing Estado 51."
Carson joins U.S. Senator Marco Rubio (R-FL) and former Florida Governor Jeb Bush who have also called for Puerto Rican statehood among a Republican field that has otherwise been quiet on the subject.
With a growing Puerto Rican voting block in central Florida, this issue will be vitally important for a candidate to have an edge going into the Florida primary.
Shane Vander Hart is the online communications manager for American Principles in Action, a frequent contributor to TruthInAmericanEducation.com, and the editor of Iowa-based CaffeinatedThoughts.com.