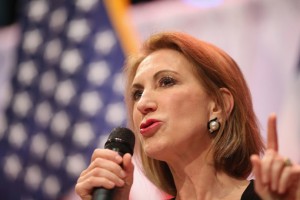 Carly Fiorina gave a scathing analysis of the Federal Reserve on Tuesday, accusing it of deliberately pursuing policies that hurt savers and calling for a major pullback on the central bank's mandate:
'The Federal Reserve has become a politicized body, unfortunately,' GOP presidential candidate Carly Fiorina [said] at New Hampshire Federation of Republican Women annual meeting.

'What you've seen is the Fed continue to find reason after reason not to raise interest rates; and who is hurt by low interest rate? [sic]  It is savers. Who is benefited?  Investors.'

'That's why stock is performing way above.  If you're in the investor class you're doing really well with this policy.  And if you are in the saver class you are getting harmed.'

'This is less than ten people and somehow they know what to do.  The Federal Reserve has too much power.  We need, I believe, to strip the dual mandate.'
Fiorina is the latest of several candidates who have called for more controls on the Fed.  Chris Christie and Ben Carson have also been critical of the effects of zero interest rates on the economy, and Senators Rand Paul and Ted Cruz have sponsored legislation to audit the Federal Reserve and called for a rule to guide U.S. monetary policy.
Nick Arnold is a researcher for the American Principles Project.