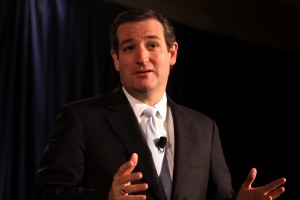 Senator Ted Cruz (R-Tex.) appeared on the first episode of "Candidate Conversations 2016" last week on EWTN News. This was the first of several interviews with 2016 candidates conducted by Robert P. George, Professor of Jurisprudence at Princeton University and founder of American Principles Project.
"Candidate Conversations 2016" is the first news program of its kind — a series of televised interviews with presidential candidates, specifically targeted to EWTN's Christian audience. Professor George sits down for one-on-one discussions with the candidates on important topics including religious liberty, marriage, life, the dignity of the person, restoring prosperity and economic opportunity, education, immigration, and the struggles facing everyday Americans and their families.
You can watch the full interview with Senator Cruz here.
Professor George asked Senator Cruz (at 25:00), "Given the seriousness of these religious liberty threats, what would you do, as President of the United States, to protect the rights of…people of all faiths who believe in marriage as a union of a man and a woman? And specifically would you, in your first 100 days, push for the passage of the First Amendment Defense Act (FADA) that would protect people's rights against any possible discrimination or persecution from the federal government — people's rights to believe and act on their belief that marriage is the union of husband and wife?"
Cruz responded, "Absolutely, yes. As you know, I'm an original sponsor of that legislation. And when it comes to religious liberty, religious liberty has been a passion for me for decades, and it has been something that I have been fighting to defend for many, many years. When I was the Solicitor General of Texas, we defended the Ten Commandments monument that stands on the State Capitol grounds. We went to the U.S. Supreme Court and we won 5-4, upholding the public display of the 10 commandments and changed the judicial interpretation all across the country. We defended the Pledge of Allegiance — you'll remember when an atheist sued seeking to strike down the pledge — and we defended those words, "one nation under God," we went to the Supreme Court and we won unanimously."
Cruz continued, "And then likewise, when I was in private practice, I represented over 3 million veterans pro bono — for free — defending the Mojave Desert Memorial, which is a lone white Latin cross, which was erected over 70 years ago to honor the men and women that gave their lives in World War I. And the ACLU sued seeking to get that veterans memorial torn down. They won in the District Court, they won in the Court of Appeals — the court ordered that veterans memorial to be covered with a giant sack with a chain and a padlock at the bottom because they said you cannot gaze at the image of a cross on public lands. And we went to the Supreme Court on behalf of 3 million veterans defending that veterans memorial, and we won 5-4."
Cruz explained, "This has been a life's passion fighting for it, and I'm convinced 2016 is going to be a religious liberty election. I've hosted now two religious liberty rallies, one in Iowa, one in South Carolina, they both had 2,000-3,000 people come out. And what we did — the media tries so hard to belittle these threats, they say they're not real and they don't exist — typically at a political event, the candidate is front and center. I very much wanted me to receive — I sat in the office and listened and we featured heroes — Kelvin Cochran spoke at our Iowa religious liberty rally — we had nine heroes come to Iowa and just tell their stories and it was ordinary people, a baker, a florist, a fireman, a soldier — every one of whom stood for their faith and every one of whom was persecuted, and we did another one in South Carolina, and it was uplifting, it was powerful. I would encourage viewers — we've got both religious liberty rallies on our website, I would encourage folks to go to tedcruz.org and watch it."
Jon Schweppe is Deputy Director of Communications for the American Principles Project.