Regular readers of The Pulse 2016 will by now be familiar with Frank Cannon, a regular contributor as well as the president of American Principles Project and a well-respected veteran conservative political strategist. Frank has been around the proverbial block quite a few times, and his experience has given him (and, by extension, us) some fantastic insights into the 2016 race. In fact, Frank anticipated some of this election's most surprising developments before nearly anyone else saw them coming.
As we wrap up 2015, here are five of Frank Cannon's most prescient predictions:
5.) The Paris Attacks Will Help the Candidacies of Trump and Cruz
I think [the Paris attacks are] a boon for two particular candidates: Donald Trump and Ted Cruz. I think the idea that business as usual and particularly adhering to a sense of how you are supposed to operate — this political correctness — is really, really at its weakest point ever. And so I think that Donald Trump's candidacy is strengthened by that, against all conventional wisdom, and I think that Ted Cruz's candidacy is also strengthened — ironically, both of them appealing to similar voters. … So I think that what you have is a confluence of events that I think, on balance, strengthens Cruz the most, but also keeps Donald Trump in the game much longer.
Result: When Frank made this prediction, Cruz was a distant fourth in national polling – tied with Jeb Bush – while Trump was quickly losing ground to Ben Carson. In the two months since then, Bush and Carson have seen their polling numbers collapse, while Trump and Cruz have skyrocketed to clear first and second place positions in the field.
4.) Carson and Cruz Are Better Iowa Candidates Than Trump
I think that Carson by temperament and by policy is more in line with the Evangelical voter than a man like Trump is, and I think a significant thing that happened in the last few weeks is that Carson signed onto the NOM [National Organization for Marriage] pledge on marriage–one of the few candidates in the race to do so. And one of the other people who did was Ted Cruz. I think that gives them a significant step up among Evangelicals in Iowa.
Result: In early September, Trump was well ahead in Iowa polling and had been leading there since Scott Walker's early August collapse. However, since then, Trump has been overtaken successively by both Ben Carson and, now, Ted Cruz, likely on the strength of their appeal to evangelical voters.
3.) Bush Is Not a Convincing Front Runner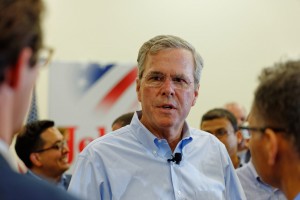 The media presents Jeb as a front-runner, and at one time they presented him as the inevitable GOP candidate. But there is a weakness in his candidacy, as evidenced by the number of voters who would "never consider" him…
Result: Back in mid-April – what seems like a lifetime ago – Bush was leading the national polls slightly over Scott Walker and was considered an obvious front runner by many pundits. Bush has since plummeted to just over 4 percent in the current RCP average, good for a very distant fourth place in the GOP field.
2.) Ted Cruz Is Well Positioned to Be a Serious Contender
If I had to pick a clear winner for the first quarter of the primary cycle, that winner would be Ted Cruz. Cruz has been able to build an organized argument based on being in the race and being well funded. This has afforded him a powerful momentum…

Cruz's strength as a conservative alternative hasn't gone unnoticed as he's been able to attract large donors and will be a force, from a financial perspective at least, moving forward. … Cruz's first quarter strength is as undeniable as it is surprising, it and puts him in a position to be a strong contender and conservative alternative.
Result: At this point in April, Cruz was averaging around 10 percent in national polling, putting him in the middle of the GOP pack. Although it would take some time for the early groundwork he laid to bear fruit, Cruz has now emerged as the clear second-place candidate and a very serious contender for the nomination just over a month away from the Iowa caucus.
1.) Republicans Need to Take Trump Seriously as a Candidate
While it's not easy to see a path for Trump, for a nation that elected an untried senator in the middle of an economic crisis in 2008, it's dumb to make assumptions like that about a self-made man of Trump's accomplishments. True, the WSJ/NBC News poll found that just 23 percent of Republican primary voters could see themselves voting for Trump, with only Lindsey Graham, and Carly Fiorina finding fewer current potential supporters.

I have to admit, I did not pay too much attention to a possible Trump candidacy until I heard that Chuck Laudner, whom I think of as possibly the smartest conservative political operative in Iowa, had joined the Trump campaign. Laudner is the guy who rented the red Chevy truck for Santorum last time around. …

Trump could shake things up. And he can be trusted to do what he says he will do, Chuck thinks.

All this may or may not be true, although given how much respect I have for Chuck Laudner, I have to take it seriously. But what I know for sure from this conversation is this: there is a profound and growing fracture between the GOP and its core base that candidates and leadership need to take seriously.
Result: In March, very few Washington insiders even believed Trump would mount a candidacy, never mind a serious one. Now, Donald Trump is the far-and-away front runner and has been leading national polling almost non-stop since late summer. Given that next to no one was talking about Trump at that point in the race, this was undoubtedly Frank's most perceptive insight into the 2016 elections.
Paul Dupont is the managing editor for ThePulse2016.com.