We had a great year at ThePulse2016.com. Thank you for being a consistent reader.
Here were our top 10 most popular posts (ranked in order by unique page views) on ThePulse2016.com this year:
April 8, 2015
By: Jon Schweppe
Wow. Senator Rand Paul just gave the best answer on abortion I've ever seen—a complete home run.

Pro-abortionists love to force pro-life candidates to be very specific on abortion, and the media is often their willing accomplice. The media will happily force pro-life candidates to explain which exceptions they support, which they don't, and generally just flummox them into eventually giving up on defending their position altogether outside of a vague declaration of being pro-life. After all, when you're explaining, you're losing.

This has been a frustrating trend to watch. Republicans have generally avoided the issue altogether, while Democrats continue to radicalize and become bolder in their pro-abortion ideology.

Abortion isn't an issue on which conservatives need to be playing defense. Instead, we should be going on the attack and forcing liberals defend their radical views of supporting abortion without exception from the moment of conception to the moment of birth.

Enter Rand Paul.

[…]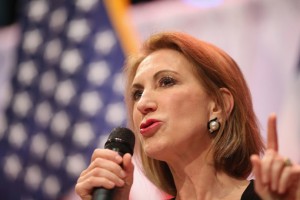 June 17, 2015
By: Josh Pinho
Carly Fiorina recently appeared as a guest panelist on ABC's "The View," and was asked by co-host Whoopi Goldberg to respond to a loaded question on the topic of life. However, even more ridiculous was Goldberg's insinuation that someone who adheres to Christian values could not govern "everyone" but rather, could only govern Christians. The exchange between Goldberg and Fiorina was as follows:

[…]
October 28, 2015
By: Jon Schweppe
The CNBC GOP Debate was filled with big moments and memorable quotes. Here are two big winners and one big loser.

WINNER: Marco Rubio

Rubio had two big moments. First, there was this smackdown of Jeb Bush:

[…]
Watch the smackdown and read more here.
July 9, 2015
By: Emmett McGroarty
The Republican leadership in the U.S. House of Representatives has worked a tremendous disservice on its members and the American children, parents, and taxpayers.  Yesterday, after heavy wrangling by Republican leadership, the House of Representatives passed H.R. 5, the reauthorization of No Child Left Behind (NCLB).

By failing to eliminate or even curb the federal testing mandates, the bill instead serves the testing industry rather than the people.  Under NCLB, that industry has grown to a $2 billion per year enterprise. As reported by PR Watch:

School testing corporations have spent at least $20 million on lobbying along with wining and dining—or even hiring—policymakers in pursuit of big revenues from federal and state testing mandates under "No Child Left Behind" measures and the Common Core curriculum, according to new analysis detailed in this Reporters' Guide by the Center for Media and Democracy (CMD).

Sadly, standardized tests provide very little instructional value, take up an enormous amount of true instructional time, and cost the states enormous amounts of money.

[…]
August 3, 2015
By: Maggie Gallagher
On June 26, a narrow majority of Supreme Court justices struck down the traditional definition of marriage, ruling all 50 states must recognize same-sex unions as marriages.

The four dissenters included the usually mild-mannered Chief Justice John Roberts, who called the majority opinion "dangerous to the rule of law": "The majority's decision is an act of will, not legal judgment. The right it announces has no basis in the Constitution or this Court's precedent."

Chief Justice Roberts also underscored the "serious questions about religious liberty" the decision raises: "Indeed, the Solicitor General candidly acknowledged that the tax exemptions of some religious institutions would be in question if they opposed same-sex marriage. . .there is little doubt these and similar questions will soon be before this Court. Unfortunately, people of faith can take no comfort in the treatment they receive from the majority."

How did the GOP presidential candidates respond to this decision? What did they promise to do about it?  This is the question ThePulse2016.com's Gay Marriage Report Card seeks to answer.

[…]
Find out how each GOP candidate was graded here.
September 14, 2015
By: Jane Robbins
It is a frequent talking point among certain Republican presidential candidates that the Common Core initiative to establish national standards was a state-led effort that was "hijacked" by the U.S. Department of Education (USED). Although this claim helps the candidates rationalize their previous support for Common Core, it doesn't comport with demonstrable facts. And now comes further evidence — in the form of an admission by a former USED official — that USED was actively coercing states, in blatant violation of constitutional principles of federalism, from the earliest days of Common Core.

Joanne Weiss was the director of USED's Race to the Top (RttT) program, the vehicle through which states were bribed to accept Common Core and the aligned assessments. In an essay recently published in the Stanford Social Innovation Review, Weiss confessed that USED used strong-arm tactics to transform states' standards and assessments systems: "[W]e forced alignment among the top three education leaders in each participating state — the governor, the chief state school officer, and the president of the state board of education — by requiring each of them to sign their state's Race to the Top application. In doing so, they attested that their office fully supported the state's reform proposal."

[…]
August 19, 2015
By: Emmett McGroarty
Four years ago, Common Core was considered a "done deal," uncontroversial and approved by Democrats and Republican leaders alike. It had been pushed into 45 states without notice to legislators and parents alike. Today, Common Core and related educational issues of local control of schools and family privacy have emerged as significant campaign issues for candidates and for a motivated network of grassroots citizens-turned activists.

ThePulse2016.com (a project of American Principles in Action) and New Hampshire's Cornerstone Action are releasing our first formal report card to voters on how GOP candidates are doing in responding to the concerns of Common Core parents and the experts who have validated their concerns. We have carefully evaluated the candidates on three separate—but related—issues:

1.) Have they spoken out and acted against Common Core?

2.) Do they understand and have they made a specific commitment to protect state and local control of education from further federal intrusion?

3.) What efforts has the candidate made to protect student and family privacy interests against the rising demands of industry and central planners for more personal student data?

[…]
Find out how each GOP candidate was graded here.
September 18, 2015
By: Maggie Gallagher
Ryan Anderson was speaking in Australia when he pulled out a surprise guest speaker, 23-year-old Millie Fontana, who spoke for many other children raised without fathers, who are silenced or told they are homophobic for noticing what they have lost:

I am a donor-conceived child of lesbian parents. I stand here with the support of all three of my parents. This is a testimony that it is, safe to say, unheard of because nobody wants to hear about the other side of the rainbow.

[…]
Watch the video and read more here.
July 30, 2015
By: Marjorie Dannenfelser
Following the release of the third video put out by the Center for Medical Progress, Fox News' Megyn Kelly invited presidential candidate Dr. Ben Carson onto the Kelly File to discuss the scandal. He is not the first presidential candidate to speak out against the actions of Planned Parenthood, but his message is successful because he is succinct and logical, calling out the other side for their extremism. Carson's message also resonates because he speaks from his experience – drawing on encounters he has had as a medical doctor.

Carson explained:

[…]
Watch Carson's response and read more here.
August 7, 2015
By: Jon Schweppe
Last night was one of the most memorable presidential debates in recent memory. There were three clear winners and three clear losers.

WINNERS:

1.) Carly Fiorina
Carly wasn't even in the prime time debate, but her impressive performance in the 5:00 P.M. debate earned her frequent praise during the prime time debate, including from Megyn Kelly, who opened the debate by telling the 10 male candidates, "It's a good thing Carly Fiorina isn't here. She unleashed a can earlier tonight."

[…]
Jon Schweppe is Deputy Director of Communications for the American Principles Project.