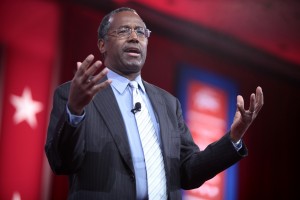 Presidential candidate Dr. Ben Carson has released a five-point plan for education that says many of the right things but fails to aggressively attack the root of the education problem in this country – the federal government's interference in an area in which it has no constitutional responsibility.
An example of this is Carson's promise to "actively support school choice programs." The real point should be that it's none of the federal government's business. The feds should stay out of it.
Carson also pledges to stop "micromanaging" and "to directly support students, cut red tape and reduce the size and authority of the Washington educational bureaucracy." That's fine as far as it goes, but why is there a Washington educational bureaucracy to begin with? The bureaucracy and its attendant red tape should be abolished, not minimized.
The same principle applies to Carson's promise to "reward excellence among teachers." He vows to do this with "flexible block grants," which is an improvement over the current system but still too prescriptive. Apparently this money would have to be used "for states to measure and identify excellent teachers and reward them accordingly." This restriction perpetuates the fundamental problem that the federal government uses money as a lure to impose its preferred policies in the absence of constitutional authority to impose those policies directly. What if state officials think the funds could be used better on other education-related issues? Better for the feds not to be handing out money at all.
Carson needs to address an underlying issue: Is it unacceptable for liberals to use the federal Department of Education to push their policies on states, but fine for conservatives to do so?
Jane Robbins is an attorney and a senior fellow with the American Principles Project.