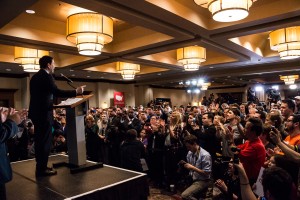 Last week, I wrote about Marco Rubio's opportunity to rise in New Hampshire.
It looks like this scenario might play out.
With Ted Cruz defeating Donald Trump by a decent margin, and Rubio coming within 1 point of beating Trump, the expectations for Trump in New Hampshire are now sky high.
Trump needs a win in New Hampshire to stay alive. If he loses to Rubio (or Cruz), or almost loses to either, he will be all but out of the race.
If Rubio wins New Hampshire, the race could come down to Cruz v. Rubio. But prepare for a possible third contender going into South Carolina if Chris Christie, Jeb Bush, or John Kasich place an impressive 3rd (or even 2nd).
From there — South Carolina will continue to winnow the field. However, one thing is for sure no matter who wins in New Hampshire: this race is a long way from being over.
Terry Schilling is the executive director of American Principles Project.