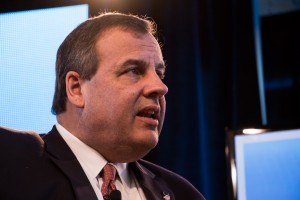 As Mary noted yesterday, a new line of attack by Senator Lindsey Graham, who has endorsed Jeb Bush, is that Marco Rubio and Ted Cruz are too pro-life because they oppose, in principle, abortion in the case of rape.
Now Chris Christie has joined Graham's anti-pro-life tactic.
Today on MSNBC's "Morning Joe," Christie declared, "Marco Rubio is not for an exception for . . . rape, incest or life of the mother. Now, you know, I think that's the kind of position that New Hampshire voters would be really concerned about. I'm pro-life, but I believe that rape, incest and life of the mother — as Ronald Reagan did — should be exceptions to that rule."
Similarly, the pro-Bush Right to Rise PAC had previously made a video painting Rubio as a pro-life extremist.
Rubio's staunch pro-life position took center stage in the very first Republican debate, where he was questioned about his view and defended the principle that all unborn lives have value.
Rubio doubled down on the position the next morning on CNN, ably defending his 100-percent pro-life view in the face of criticism from host Chris Cuomo. Rubio clarified that he would sign or vote for a pro-life law if it had exceptions for rape, but at the same, he defended in principle the value of all unborn children regardless of the circumstances of conception and said he would not insist on those exceptions being in a law.
This line of attack is a risky one for Bush and Christie and risks a backlash among pro-life leaders. Bush has gone out of his way to tout his pro-life and religious liberty bona fides during his campaign, and Christie highlighted his pro-life views at the last Republican debate in the wake of criticism from Rubio.
Meanwhile, Rubio has been hailed by many pro-life leaders not only for the position he staked out at the beginning of the campaign but also for his masterful articulation of the pro-life position in a compassionate, convincing and articulate way.
Pro-life apologist and debate trainer Scott Klusendorf, who recently endorsed Rubio, cited this in his endorsement announcement, saying "I've never seen any political figure—not even Ronald Reagan—do better than Marco Rubio defending life under fire."
The pro-life movement generally considers candidates pro-lifers in good standing regardless of whether they say they would adopt exceptions for rape across the board or instead take Rubio's view in defense of all unborn children even if they are willing to sign a law with exceptions.
But it is a nearly universal pro-life view that candidates should not be deemed unacceptable because they are more pro-life on the issue of exceptions in the way that Rubio is.
Christie's and Graham's push to make the acceptance of exceptions for rape and incest a litmus test is arguably inconsistent with the Republican Party platform itself, which affirms the right to life without mentioning exceptions.
UPDATE: Marjorie Dannenfelser (an occasional contributor to The Pulse 2016) on behalf of the Susan B. Anthony List, a pro-life political powerhouse organization, has written an open letter calling candidates to stop criticizing Rubio and Cruz for supposedly being too pro-life.
"Let me be clear: An attack on this aspect of these candidates' pro-life positions is an attack on the pro-life movement as a whole," Dannenfelser wrote.
She concluded, "I urge you and your campaigns to reject Planned Parenthood's talking points and instead keep the pro-life movement on offense by focusing on exposing the extreme position held by the other side: Abortion on-demand, up until the moment of birth, for any reason, paid for by the taxpayer."
Matt Bowman is an attorney who practices pro-life and constitutional law in Washington, D.C.