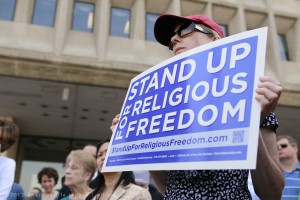 South Carolinians are banding together to request immediate, pledged support for the First Amendment Defense Act (FADA) from all presidential candidates. Today, the "South Carolina Coalition for the First Amendment" sent a letter to each presidential campaign asking: "Will you pledge today to give priority and pass the First Amendment Defense Act in the first hundred days of your administration?"
The coalition includes:
The South Carolina Baptist Convention
The Roman Catholic Diocese of Charleston
The Palmetto Family Council
North Greenville University (Christian Worldview Center)
Oran P. Smith, President and CEO of the Palmetto Family Council, said, "By examining this pledge, South Carolinians can determine which presidential candidates they can rely on to protect one of their most basic rights: to freely exercise their religious beliefs without government interference. Religious freedom is an important issue in the South Carolina primary, and we hope that as many candidates take the pledge as possible."
This South Carolina-centric initiative echoes the effort of American Principles Project (APP), which joined together with Heritage Action for America and FRC Action to request the same commitment — to pass FADA in the first 100 days — from each of the presidential candidates in December.
Maggie Gallagher, Senior Fellow at American Principles Project and a contributor to The Pulse 2016, asked, "Will the next president fight for FADA? South Carolinians want a clear answer about who is willing to lead the fight against the Left's aggressive attempt to redefine traditional faith as bigotry."
Four candidates still running for president signed APP's FADA pledge, including:
Senator Ted Cruz (R-Texas)
Senator Marco Rubio (R-Florida)
Dr. Ben Carson
Carly Fiorina
Two candidates did not sign the pledge, but expressed public support for FADA:
Former Governor Jeb Bush (R-Florida)
Donald Trump
Five candidates did not sign the pledge and did not respond to APP's request to indicate support for FADA, including:
Governor Chris Christie (R-New Jersey)
Governor John Kasich (R-Ohio)
Former Governor Jim Gilmore (R-Virginia)
Former Senator Hillary Clinton (D-New York)
Senator Bernie Sanders (I-Vermont)
You can read a brief summary about FADA here — what it is, who it protects, and why it is needed.
Jon Schweppe is Deputy Director of Communications for the American Principles Project.