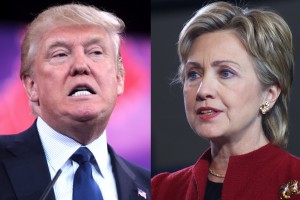 CNN released a new national poll this morning, and on the surface it seems pretty incredible.
Trump just opened a massive 33 point lead on the rest of the GOP field. According to CNN's poll, 49 percent of GOP voters now support him. Rubio trails with 16 percent of the vote, and Cruz is right behind at 15 percent.
The fantasies of a Rubio/Cruz mega-candidate beating Donald Trump appear to be just that — fantasies — a physical and electoral impossibility.
However, Trump's negatives are at an all-time high, and his opponents insist they won't vote for him against Hillary Clinton.
When asked about Trump possibly winning the nomination, 35 percent of GOP voters said they would "definitely not support" him. An additional 13 percent of GOP voters said they would "probably not support" him.
That's nearly half the party. According to these numbers, you either love Donald Trump or you absolutely hate him.
But can Trump really win against Hillary Clinton when 35 percent of his own party will "definitely not support" him in November? Yikes.
Jon Schweppe is Deputy Director of Communications for the American Principles Project.