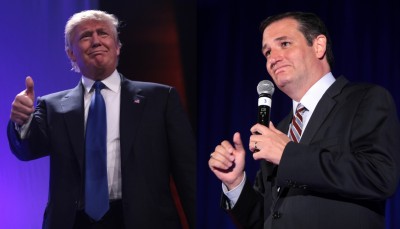 Eleven states voted and pledged delegates last night. While the mainstream media continues to peddle the false idea that Donald Trump dominated, we're here to give you three key takeaways from the results:
1.) #NeverTrump worked.
It really did. Finally, the candidates took aim at Donald Trump, and he lost votes because of it. Trump only won 7 states last night — far fewer than the 9 or 10 he was expected to win. He repeatedly underperformed the polls, winning squeakers over Marco Rubio in Virginia and John Kasich in Vermont, losing Oklahoma (when polling had him ahead prior to Super Tuesday), and getting absolutely blown out in Texas.
Donald Trump looked beatable last night for the first time since the Iowa Caucus.
2.) Ted Cruz had a great night.
And Trump looked beatable because of Ted Cruz. Several campaigns have blamed a large field for not being able to beat Donald Trump so far, arguing that they'll win once the field narrows. The Cruz campaign has made no excuses and has now won in four separate states, as well as coming close in several more.
Cruz is winning a ton of DELEGATES, and that's what actually matters. "Winning" states is only important for media narratives. According to The New York Times, Trump won 241 delegates yesterday, and Cruz won 222. Cruz is within striking distance of Trump. This race is hardly the foregone conclusion that's being portrayed in the media.
3.) It's time for Marco Rubio, Ben Carson, and John Kasich to suspend their campaigns and back Ted Cruz.
This won't happen, but it probably should. Marco Rubio won Minnesota last night, and he nearly won Virginia, but he failed to meet an important delegate threshold in Texas (20 percent), which cost him at least 30 delegates by my count. He is also trailing by double digits in his home state of Florida, a winner-take-all state worth 99 delegates, where Donald Trump appears to have a firm grip.
Many conservatives have proposed that one of Rubio/Cruz should get out and back the other after Super Tuesday, depending on who appeared to be in the best shape. Cruz has put himself in a strong, competitive position. It's hard to say the same for Rubio, even if the Rubio campaign claims that the primary schedule favors them from here.
If Rubio dropped out and endorsed Cruz, there's no doubt in my mind Cruz would become the front runner and defeat Trump. That would probably be true in reverse as well. But if they both stay in? We will likely get Trump as the nominee. So who's going to be the patriot and do the right thing? I think it should be Rubio based on the results so far.
And as for Kasich and Carson?
The same standards that apply to Marco Rubio should apply to John Kasich. He didn't win a single state on Super Tuesday, and he won less than 20 delegates. There is no path forward. Go home.
Meanwhile, Carson's campaign just admitted they have no idea how to win from here, yet he won't leave the race. Please do the right thing, Dr. Carson. Stop raising money from poor grandmas who think you have a chance and get out of the race. The future of our country is at stake.
Jon Schweppe is Deputy Director of Communications for the American Principles Project.