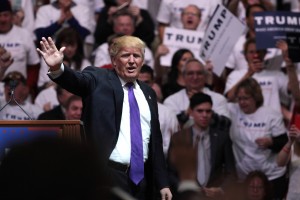 An article in RedState by RNC committeeman Morton Blackwell has garnered some attention recently in highlighting a little-known rule instituted in 2012 regarding the Republican nomination process.
Rule 40(b) of The Rules of the Republican Party, while originally enacted to tamper down on dissent from Mitt Romney's nomination in 2012, may actually end up making it difficult for any Republican candidates to defeat Donald Trump, even if he does not win an outright majority of delegates prior to the party's national convention.
First, some background from Blackwell:
… A greater number of people have recently learned that, as the national rules now stand, no delegate votes cast for any presidential candidate will be counted in the tally of first ballot votes unless that candidate had earlier demonstrated his support from a majority of the delegations from at least eight states or territories.

That's exactly what happened at the 2012 Republican National Convention in Tampa.

No votes for any candidate other than Mitt Romney were counted in the final tally of the votes on the first and only ballot in Tampa.  That caused a great uproar and many hard feelings.  Large numbers of Delegates went home furious.  They had come to Tampa to cast their votes for other candidates, but their votes weren't even counted!

The Romney campaign used the power of the incoming presidential nominee in the national convention's Rules Committee to impose a great many rules changes, including a change that had the intended effect of eliminating the counting of votes for anyone but Romney.
But as often happens, actions can have unintended consequences:
… [L]et's examine what would happen if no candidate receives 1,237 delegate votes on the first ballot for the Republican presidential nomination.

First, a sizeable number of delegate votes cast will not be counted in the final tally of the first ballot because they will be cast for candidates who did not demonstrate, before the first ballot, that they had majorities in at least eight state delegations.

Second, the national rules provide that no one will get the presidential nomination on any ballot until someone receives at least 1,237 tallied delegate votes.

Third (and this will come as a surprise to most people), although delegate votes from states that hold primaries will be allocated by those state primaries to specific candidates on the first ballot, that does not mean that on subsequent ballots all delegates are free to vote for whomever they choose and to have those votes counted in a final tally on any ballot.

In fact, as it now stands, the same Romney-created rule, Rule 40(b), that prevents votes from being tallied for candidates who could not prove majority support from at least eight state delegations also provides that candidates must prove that they meet the eight-state threshold "not less than one (1) hour prior to the placing of the names of candidates for nomination pursuant to this rule and the established order of business."  In other words, when the first ballot begins, no additional candidates can qualify to receive votes that will be counted.

Only candidates who meet the eight-state threshold required to receive votes that count on the first ballot can receive votes that count on subsequent ballots.

Under the current rules, therefore, it's nonsense to talk about any candidate coming from behind to win the nomination unless that candidate meets the eight-state threshold before the first ballot, much less to talk about breaking a possible convention deadlock by nominating anyone who is not right now a candidate for the nomination.
Of course, if Donald Trump or another candidate comes into the convention with the requisite 1,237 delegates, this whole issue will be (for the most part) moot. However, if a brokered convention does occur, it's questionable whether any candidate other than Trump will meet the eight-state threshold required for them to even qualify for the ballot. Keep in mind, winning of a plurality of delegates from a state does not mean winning a majority.
As it stands now — according to RealClearPolitics' delegate count — Trump has won a majority of delegates in seven states (South Carolina, Alabama, Georgia, Massachusetts, Tennessee, Hawaii, and Mississippi), and will likely win his eighth state next Tuesday as we reach the first large slate of winner-take-all primaries. Ted Cruz, on the other hand, has only won a majority in four states (Texas, Kansas, Maine, and Idaho), leaving him with an uphill battle to reach eight with just under half of the primary contests already completed. Marco Rubio and John Kasich are in even worse shape, having won the majority of delegates in only two contests between them (Rubio in Puerto Rico and the District of Columbia). It's highly unlikely either would reach the eight-state threshold even if they did make it to the convention.
This means that not only would the delegates for Cruz, Rubio, and Kasich potentially not count on the first ballot at the convention, but these candidates would also be ineligible for any future ballots would further voting be required. At this point, it is likely that only Trump would be an eligible candidate, leaving Republicans no choice but to nominate him.
Of course, the RNC is free to change the rule prior to convention – and may very well end up doing so. And even if they do not, at least one RNC official has suggested that "majority support" might be reinterpreted to mean "enough support" so as to count all state wins toward each candidate's total.
Nevertheless, the controversy over Rule 40(b) has become just the latest example of how Donald Trump has managed to turn the Republican establishment's own system against them during this election cycle.
Paul Dupont is the managing editor for ThePulse2016.com.