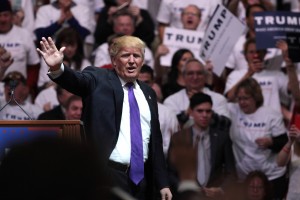 Although the Republican Party's nomination of Donald Trump is no sure thing just yet, two new national polls suggest that the rest of the primary process may be little more than a formality at this point.
According to a Quinnipiac survey, Trump leads the three-man GOP field with 43 percent of the vote, with Ted Cruz and John Kasich trailing with 29 percent and 18 percent, respectively. And while Cruz's and Kasich's votes would combine to defeat Trump, head-to-head polling suggests that neither would be able to do so in a two-man race.
When matched up against Trump, Cruz loses by 9 points overall, 46-37. Although Trump barely edges Cruz among self-identified Tea Partiers and white born again evangelicals, the front runner defeats him rather handily among all age groups and education levels. The only group Cruz wins is the "very conservative," while Trump tops him among "somewhat conservatives" and "moderate/liberals." Kasich fares even worse in a one-on-one matchup, losing 56-25 to Trump.
A Monmouth national poll released today also suggests that, in the event of a brokered convention, most Republican voters would still be in favor of giving the nomination to Trump. When asked what they would rather see the Republican Party do if no candidate wins on the first round of balloting at the convention, 54 percent answered they would want to see the GOP get behind Trump, while only 34 percent say they would like to see a different candidate nominated.
While this, of course, could change between now and the convention, it is difficult to see opinion shifting too much unless Cruz begins to build some significant momentum soon. For now, however, Republican voters seem to be getting increasingly comfortable with Trump as their presidential nominee.
Paul Dupont is the managing editor for ThePulse2016.com.