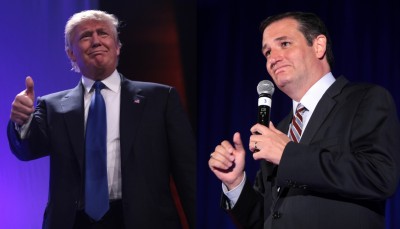 Michael Barone has a column on RealClearPolitics.com today where he points out the steep hill that Donald Trump still must climb to win the nomination outright.
We both agreed about the similarities with the Northeastern states, but he pointed out something that I missed — that turn out in these heavily blue states was just around 10 percent — which Barone points out is "lower than any other state besides Louisiana":
But turnout in these primaries hovered around just 10 percent of eligible voters, lower than in any other state but Louisiana. That's partly because registered Republicans are scarce on the ground in the Northeast: 37 percent of registered voters in Pennsylvania, between 21 and 29 percent in the other closed primary states. Not coincidentally, none except Pennsylvania has come close to voting for a Republican presidential nominee in recent years.

The Northeastern results are the latest example of a phenomenon seen throughout this Republican race: Voters in one state are not much moved by the choices of voters in an earlier contest.
Barone compared this race to the 1980 Democratic primary between Ted Kennedy and Jimmy Carter:
This reminds me of the 1980 Democratic race between Edward Kennedy and Jimmy Carter. Just when Carter seemed to have things wrapped up, Kennedy would get a big win. Then Carter would come back.

It was as if many Democratic voters wanted neither one to clinch the nomination. Perhaps this year many Republican voters don't relish a Trump victory or a contested convention where Cruz or someone else could win.
Barone also points out that this race is going to come down to California and Indiana. Sparse polls in Indiana — which has a strict anti-telemarketing law — show a tight race with a slight lead for Trump, but Cruz is not out of the running.
The biggest shocker that I learned from Barone is that outside of Ohio, John Kasich has won only seven counties — Manhattan, four counties in Vermont, and two in Michigan. But don't worry. Kasich will still run around telling everyone he's the most "electable" candidate. What a joke. Cruz by comparison has carried 759 counties.
Barone also makes an interesting point about Marco Rubio and says that he was basically the combination of John Kasich and Ted Cruz — which is maybe why he didn't do well:
Members of the "Never Trump" group may imagine a candidate who combines Cruz's appeal to hard shell conservatives and Kasich's to upscale suburbanites: Call him Marco Rubio. But Rubio couldn't carry his home state of Florida, so Republicans are stuck with candidates who carried and embody the images of their home states, which are New York and Texas — images repellent to many other voters.
Sorry, Schweppe. You should focus on your career in theatre and leave the political punditry to Michael Barone . . . and me.
Terry Schilling is the executive director of American Principles Project.