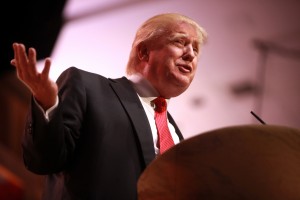 Well, that didn't take long. Now that Donald Trump has effectively secured the Republican nomination for president, far-left special interest groups like the Human Rights Campaign (HRC) are launching a blitzkrieg of misinformation and propaganda.
On Tuesday, Brandon Lorenz, Communications Campaign Director at HRC, wrote a blog post criticizing the "Four Ways Donald Trump Would Roll Back LGBT Equality As President." In the post, Lorenz cites a letter Donald Trump sent American Principles Project (APP) in December of last year promising to sign the First Amendment Defense Act (FADA) if the bill reached his desk as President.
You can read a brief summary about FADA here — what it is, who it protects, and why it is needed.
In a press release released yesterday, Frank Cannon, president of American Principles Project, praised Trump for his support of FADA:
Donald Trump deserves credit from social conservatives for his principled position on protecting freedom of religion. Last December, Trump assured American Principles Project, 'I will certainly sign legislation that protects religious liberty for all.' He is with us on this important issue.
Cannon called on conservatives to oppose the extremist Hillary Clinton:
[Trump] is with us on this important issue. Hillary Clinton is not.

Endorsed by the radical LGBT lobby, Hillary Clinton is an extremist who has staked out a position opposing religious freedom, a bedrock American principle as outlined in the First Amendment. By opposing the First Amendment Defense Act, Clinton has allied herself with radical anti-religious activists who would gleefully advocate shutting the doors of churches and synagogues with which they disagree…

Trump has demonstrated a commitment to the concerns of social conservatives on issues like life, marriage, and religious freedom, and he has promised to appoint conservative justices to the Supreme Court in the mold of the late Antonin Scalia. When it comes down to Trump and the extremist Clinton, the choice is incredibly easy — we have to, and will, back Trump.
Cannon is right. There is a sharp contrast between Hillary Clinton and Donald Trump on the issues of abortion, marriage, and religious freedom. Yes, it was a rough and tumble primary, and #NeverTrump'ers should take a couple weeks to recuperate. But come November, the choice shouldn't be very difficult at all.
Jon Schweppe is the Communications Director for American Principles Project. Follow him on Twitter @JonSchweppe.