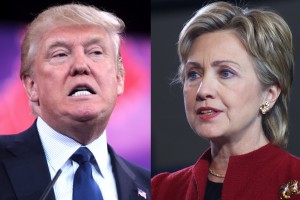 Quinnipiac is out with a new batch of battleground state polls.
Brace yourselves, #NeverTrump'ers: The Donald might become president.
In Florida and in Pennsylvania, Clinton is at 43 percent while Trump is 42 percent, according to the poll. Among Ohio voters, Trump gets 41 percent and Clinton gets 39 percent.

Worth noting is that the gender and racial gaps in each state are wide. In all three states, Trump leads among men and white voters, while Clinton leads among women and nonwhite voters. For example, in Ohio, Clinton gets 76 percent of nonwhite voters, while Trump garners 14 percent. And 49 percent of white voters prefer Trump, while 32 percent prefer Clinton.

Also, voters in all three states believe Trump would do a better job than Clinton in handling the economy. Florida and Ohio voters think he'd handle terrorism better than Clinton, while voters in Pennsylvania are split.
If Pennsylvania is really in play, this completely changes the electoral map and opens up interesting possibilities for the Trump campaign.
Jon Schweppe is the Communications Director for American Principles Project. Follow him on Twitter @JonSchweppe.