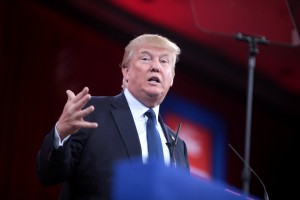 Dennis Prager has a thought provoking piece up at Townhall titled, "A Response to My Conservative #NeverTrump Friends". Seriously, go read it.
Prager criticized Donald Trump frequently during the primary, but he has come to the conclusion that voting for the "lesser of two evils" is sometimes the right and necessary thing to do. Prager writes:
The choice this November is tragic. As it often happens in life, this choice is between bad and worse, not bad and good.

But America has made that choice before. When forced to choose between bad and worse, we supported Joseph Stalin against Adolf Hitler, and we supported right-wing authoritarians against Communist totalitarians.

It seems to me that the #NeverTrump conservatives want to remain morally pure. I understand that temptation. I am tempted, too. But if you wish to vanquish the bad, it is not possible — at least not on this side of the afterlife — to remain pure.
This, to me, is the most compelling argument to vote for Trump.
If you believe Trump's misanthropic demeanor is worse for the nation than taxpayer-funded late-term abortions, men in women's showers, and a permanently liberal Supreme Court for the next 30 years, then by all means, acquiesce to your conscience and sit this one out.
Personally, I can't do that. It's a binary choice for me — Ronald Reagan isn't walking through that door. It's either Hillary, who will continue Obama's legacy of destroying our very way of life, or it's Trump, the guy who says the darndest things.
Jon Schweppe is the Communications Director for American Principles Project. Follow him on Twitter @JonSchweppe.