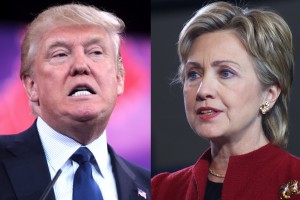 Donald Trump continues to gain ground on Hillary Clinton, particularly in states which have not gone Republican in a presidential election in many years. According to a new poll released by Public Policy Polling, Trump and Clinton are tied at 44 percent support each in Pennsylvania, a state in which Trump hopes that pro-worker economic message will resonate with working class voters.
While a generic Democrat and Bernie Sanders still enjoy leads in a general election scenario against Trump, concerns remain about Clinton's popularity, even within the Democratic Party, and many are openly questioning whether enough Sanders supporters will back Clinton in the fall to turn the battleground state blue. As it stands currently, just 72 percent of those backing Sanders in a general election scenario versus Trump would support the former Secretary of State. Meanwhile, Sanders leads Trump 51 percent to 39 percent in Pennsylvania, and a generic Democrat leads the billionaire 45 percent to 41 percent in the state.
Still, such numbers represent a miraculous turnaround for Trump, who just less than two months ago was losing to Clinton by as many as fifteen points.  Perhaps the larger story, however, is how well Trump does even with Green Party candidate Jill Stein and Libertarian Party candidate Gary Johnson included in the polling. Though Clinton takes the lead in the state by one point, 41 percent to 40 percent, Trump is still well within the three point margin of error, with Johnson and Stein polling at six and three percent, respectively.
If these numbers hold up over the next few months, Pennsylvania could very well be a toss up heading into November.
Elliot Hazzard works for the American Principles Project.