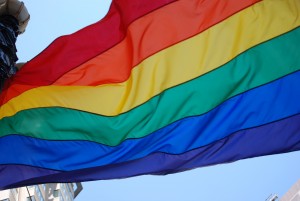 Remember after September 11th when we all flew American flags in solidarity? Those flags stayed up for months.
And after the terrorist attack in Paris, we all rushed to display French flags on our Facebook profiles. Again, to show solidarity. We did the same thing after the terrorist attack in Belgium. We all stood united against terror and against evil. It was beautiful.
After Orlando, some of us put up rainbow flags, some of us expressed sympathy in other ways, and some of us did nothing. We certainly didn't put up American flags. We didn't identify this as an attack on America™. We identified it as a hate crime against a small group, not a hate crime against our nation.
Why?
It's not like this attack exclusively affected people in the LGBT community, and even if it did, so what? Forty-nine Americans died. Dozens more were injured. This impacted Americans of all identities. Straight people. Gay people. Trans people. Black people. White people. Hispanics. Asians. Muslims. It affected everyone.
So why do we refuse to unite under one banner and one identity and reject evil?
Then, even more regrettably, we used the attack as a way to castigate our political opponents. We managed to find more blame in our neighbor than in the evil perpetrator who murdered those 49 people in cold blood.
We equivocated moral opposition to gay marriage with a cold-hearted massacre. We criticized public officials striving to help a community recover for not having tweeted about Gay Pride Month. Seriously.
What's wrong with us?
Donald Trump said last year, "We either have a country or we don't." I think it's pretty clear we don't. We are not "United States" anymore. Instead, we are divided interest groups that hate each other so much we can't even stand together after being attacked on our own soil.
Divided we fall. And we will fall… if things don't change soon.
Jon Schweppe is the Communications Director for American Principles Project. Follow him on Twitter @JonSchweppe.