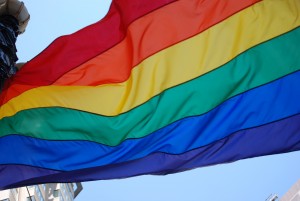 OneNewsNow.com reports that the National Education Association (NEA) is pledging at least $70,000 — and possibly much more — to push transgender policies in schools and fight state-level religious freedom laws. The plan is expected to be addressed during the NEA's upcoming meeting in Washington next week:
Retired NEA member Jerelee Smith has been tracking the latest proposal, which is expected to raise the concern of conservatives and Christians alike.

"It looks like to me they're bringing out all the guns," Smith begins. "There are six different strategies they propose to fight what they call discrimination against LGBTQ individuals."

The strategies mentioned include pushing for mixed-gender bathrooms and locker rooms, broad support for gay school clubs and the shutting down of conservative and Christian dissent. The NEA is specifically going after religious freedom and accommodation bills, such as the ones passed in North Carolina and Mississippi.

"They're proposing a rapid force to combat anything that might be just in the formation on a state level that might address the LGBTQ issues," Smith warns.

[…]

The agenda item obtained by OneNewsNow indicates that the union is willing to spend $70,000 on the effort, but Smith contends the NEA has slush funds with hundreds of thousands of more dollars it can throw at the issue, if it so wishes.
Such a move by the NEA would not necessarily be surprising. Last month, NEA President Lily Eskelsen Garcia praised the Obama administration's transgender bathroom edict as "not only timely and right but necessary to ensure that everyone – regardless of gender identity – has the opportunity to thrive and achieve." The teachers union has also partnered with the Human Rights Campaign in the past to push the LGBT agenda in schools nationwide.
As of now, however, it would appear the NEA is putting their (considerable) money where their mouth is.
Paul Dupont is the managing editor for ThePulse2016.com.