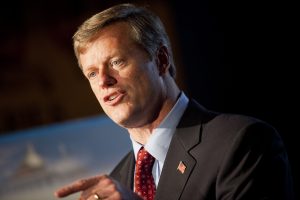 Last Friday brought good news and bad news in the gender-dysphoria wars. As we've come to expect in the education arena, though not without disappointment, the bad news arrived at the hands of a supposed Republican.
The glad tidings were that 10 states have joined the original 13 in challenging the Obama administration's unlawful "guidance" requiring schools to open up restrooms, locker rooms, overnight sleeping accommodations, and probably sports teams to all students of either sex. The administration's theory is that when Congress passed Title IX of the Civil Rights Act 42 years ago to protect girls' interests in federally funded education programs, it actually intended to limit their opportunities and even endanger their privacy and safety.
A total of 23 states have now officially and legally declared this theory to be absurd. Ten states — Arkansas, Kansas, Michigan, Montana, Nebraska, North Dakota, Ohio, South Carolina, South Dakota, and Wyoming — sued Friday in federal court in Nebraska to stop the administration from penalizing states, districts, or schools that refuse to buckle to its new mandate. The original states to sue were Alabama, Arizona, Georgia, Kentucky, Louisiana, Maine, Mississippi, Oklahoma, Tennessee, Texas, Utah, West Virginia, and Wisconsin.
Now the bad news. Also on Friday, Republican Governor Charlie Baker of Massachusetts signed a bill adding the phrase "gender identity" to the state's anti-discrimination laws. This means all public accommodations (including schools) must open up private spaces such as restrooms and showers to members of either sex. And as LifeSiteNews reports, Massachusetts lawmakers in their wisdom rejected an amendment that would have barred sex offenders from using the opposite sex's private facilities. These solons have apparently decided that if madness is to be enshrined as public policy, it is better to aim for full bedlam now and skip the intermediate steps.
Governor Baker thus continues his graceful pirouettes away from his campaign promises and toward groveling to powerful special interests. In the long and arduous battle waged by Massachusetts parents to reject the substandard Common Core national K-12 standards and return to Massachusetts's previous first-rate standards, Baker initially declared himself an ally. But when he was elected — that is, when he assumed a position from which he could actually make good on his promises — he decided to withdraw from the stage and abandon his supporters to fight the billionaire special interests on their own.
He has now extended this inspiring leadership style to the gender-dysphoria issue. Having declared to voters his opposition to adding "gender identity" to state anti-discrimination law, Baker wasted no time collapsing under the shrill — and well-funded — attacks of the LGBT lobby.
There really can be no doubt now that when it comes to public education in Massachusetts, Baker will reliably align himself with "progressive" corporations and private foundations rather than with Massachusetts children and parents. Whether he is ideologically in tune with these interests or is simply too craven or too weak to stand up to forces with money, the result is the same — kids lose.
Fortunately, some state leaders still have the spine to do the right thing. Kudos to the leaders of the 23 states who have decided not to cower before power-drunk ideologues.
Jane Robbins is an attorney and a senior fellow with the American Principles Project.