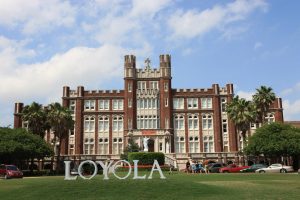 On Thursday, Loyola University of New Orleans willingly relinquished its ability to claim a religious exemption from federal Title IX requirements. In a letter to the Department of Education, university officials wrote that they no longer need such exemptions because they no longer provide students health insurance.
The Department of Justice's website describes Title IX as "a comprehensive federal law that prohibits discrimination on the basis of sex in any federally funded education program or activity."
Many religious colleges and universities have sought exemptions from Title IX in the past because the law's associated regulations require that health insurance offered to students provide coverage for abortion and contraception. However, Loyola and other Christian schools that have re-embraced Title IX in an effort to seem more "open and accepting" may be in for more trouble than they expect.
The Human Rights Campaign, one of the groups at the cutting edge of the LGBT movement, has been petitioning the government to seriously limit the ability of colleges and universities to live out their religious and moral convictions.
Writing for National Review, Andrew Walker explains:
Like any association with an expectation about belief and conduct, Christian colleges admit students on the basis and expectation of Christian kids promising to abide by Christian morality. The Human Rights Campaign, however, views any attempt by Christian colleges to live out their Christian ethics as inherently discriminatory because most Christian colleges, shockingly, dare to uphold the 2,000-year-old teaching that homosexuality is sinful and that gender is biologically determined, not socially constructed.
By backing away from Title IX's exceptions, Loyola is opening itself up to the kinds of assaults groups like the Human Rights Campaign will launch.
If activist judges begin interpreting the law the way HRC wants, places like Loyola that do not have Title IX exemptions may come under fire for even teaching Catholic morality, let alone enforcing campus codes of conduct.
And there are threats to Christian schools besides activist judges. Take, for instance, aggressive new policies proposed by the California state legislature. If implemented, these policies would reinterpret law and longstanding precedents regarding the free exercise of religion.
In an article for The Daily Signal, Andrew Egger writes: "Additionally, in a move that mirrors the Department of Education's May release of documents revealing colleges that had appealed for religious exemptions to Title IX discrimination requirements, [California's] SB 1146 would require faith-based schools to disclose their religious exemption publicly on campus and in all promotional materials, including brochures, letters to high school applicants, and tours for new or prospective students."
Ultimately, Loyola sought to withdraw from the Title IX exceptions precisely so they would not have to be on any of the "lists of shame" LGBT pride groups publish. The administrators at Loyola are looking to pacify the social leftists.
Loyola may have gained esteem in the eyes of the "equality crowd," but at what potential price?
Michael Lucchese works for the American Principles Project.