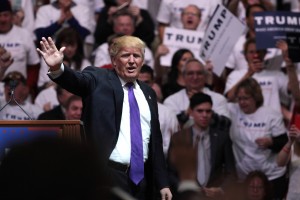 As is being widely reported today, Donald Trump made two notable campaign hires, bringing on veteran pollster Kellyanne Conway and Breitbart News chairman Steve Bannon to serve in leadership roles. The moves come as Trump has been languishing in the polls recent weeks, following the conclusion of the party conventions last month.
For a campaign badly in need of a boost, could these changes help put Trump back on a path to victory?
Two conservative leaders seem to think so.
Frank Cannon, president of the American Principles Project and regular contributor to The Pulse, said today that he sees the hires as indicating an aggressive move by the Trump campaign to take the fight back to Hillary Clinton:
Both Bannon and Conway are committed to the conservative movement, they understand the issues and how activists think, and perhaps most importantly, they know how to go on the attack and put left wing extremists like Hillary Clinton on defense. These hires demonstrate that the Trump campaign is serious about winning. Get ready for a blitzkrieg of attacks on Hillary Clinton from now until Election Day for her extreme positions, her failed record, and her crooked past.
Marjorie Dannenfelser, president of the pro-life Susan B. Anthony List, also praised the new campaign hires as illustrating Trump's commitment to making a strong conservative case against Clinton:
I have known and trusted Kellyanne Conway my entire professional life. No one is better at understanding what real people are thinking and how to connect with them than Kellyanne. She and Steve both understand the importance of effectively communicating the pro-life position and leveraging the passion of the pro-life grassroots in winning elections. No two could be better positioned to help Donald Trump to take on and expose Hillary Clinton's extremism in this general election.
It's clear the Trump campaign is now poised to make a strong statement heading into the fall. What kind of statement — and what impact it may have on the race — will bear close watching in the coming weeks.
Paul Dupont is the managing editor for ThePulse2016.com.