The Federal Reserve recently decided to create a Facebook page to interact with the American people. So far, the page has received very little attention — just 11,250 likes. It has, however, received the attention of a committed group of anti-Fed activists, and the results have been pretty hilarious.
How did the Internet respond to an innocuous post defining the FOMC (Federal Open Market Committee)?
Well…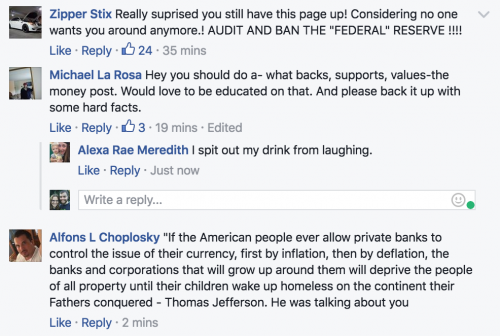 It gets worse:
Somewhere Fed Chair Janet Yellen is banging her head on her desk…
This goes on and on for hundreds of comments. And, even more ridiculously, it is happening on EVERY. SINGLE. POST.
Some people are even using Facebook's "report" feature to try and take down the page:
The anti-Fed trolling isn't limited to the Federal Reserve's official Facebook page. Check out this unofficial page that presumably existed prior to the launch of the official page. It includes a rating system, where Facebook users have given the Fed an average rating of 1.4 out of 5. Here are some of the reviews:
Yikes. Welcome to the Internet, Janet Yellen.
Jon Schweppe is the Communications Director for American Principles Project. Follow him on Twitter @JonSchweppe.