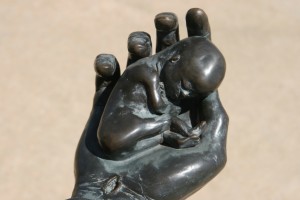 The New Mexico Alliance for Life released a shocking video of a University of New Mexico official confessing that UNM professors illegally obtained aborted babies' brains and had high school students at a summer camp dissect them.
Dr. Paul Roth, chancellor of the University of New Mexico Health Sciences Center and dean of the School of Medicine, was questioned about the incident and confirmed that fetal brain tissue was used in these dissections.
"Yes, we had a faculty member who obtained some tissue, and during one of these summer workshops, uh, dissected I think one or two fetal brains," Roth said.
Using fetal tissue from aborted children clearly violates New Mexico's Jonathan Spradling Revised Uniform Anatomical Gift Act, which prohibits using such tissue in medical research.
Investigations into UNM's usage of aborted babies' body parts have uncovered an illicit relationship between the university and regional abortion clinics.
Pro-life activists have, in the past, secured consent forms from Southwestern Women's Options — a regional abortion clinic — that included a box to check to consent to the use of aborted fetuses' tissue in medical experiments.
Earlier this summer, a Select Investigative Panel from the House of Representatives sent a letter to the Attorney General of New Mexico, referring UNM and SWWO for criminal charges.
"Through its investigation," the letter stated, "the Panel has discovered that personnel within UNM's hospital and medical school have aggressively engaged in expanding abortion in New Mexico through the offices, personnel, and resources of UNM."
Further into the 291-page-long letter, the Select Panel reveals evidence that SWWO has a special contract to be the "sole provider of aborted infant tissue to the University of New Mexico Health Sciences Center." In addition, the Select Panel uncovered that UNM provided substantial benefits and faculty status to abortionists at SWWO clinics, and provided doctors for SWWO-affiliated abortion clinics.
UNM's and SWWO's concerted efforts to promote abortion are not limited to affecting New Meixcans. As abortion regulations in neighboring Texas have become stricter, many women looking to get abortions have crossed the border into New Mexico for abortion procedures at SWWO's clinics. According to reports, nearly 20 percent of abortions performed in New Mexico involved women from out of state.
Pro-life group Operation Rescue has been on the front lines of investigating the misdeeds of UNM employees and their shady relationship with SWWO. Their president, Troy Newman, has said that criminal charges should be filed against the parties involved with this scandal.
"The video interview with Paul Roth corroborates the allegation made by the Select Panel. There should be immediate criminal charges filed against UNM and Roth, who apparently took no issue with high school kids dissecting aborted baby brains, and whoever requested the brains in the first place," he said. "Everyone at UNM and at Southwestern Women's Options that were involved with the illegal aborted baby body parts scheme must also be charged. Anything less is gross injustice."
This certainly is not the first time pro-life activists have called for a criminal investigation of illegal pro-abortion activities at UNM. In 2015, a pro-life group filed a complaint with the New Mexico Attorney General's office, but the complaint is still pending.
Susana Martinez, the Republican governor of the state, ran on a pro-life platform. However, she largely ignored the 2015 complaint against UNM, drawing the ire of pro-life activists in her state. The absence of a statement from the New Mexico's governor's office earned Martinez the nickname "Silent Susana" among some in the pro-life community who allege that she put national political ambitions before her promises to serve as a pro-life governor.
Martinez has yet to comment on the latest developments in the UNM scandal, but with the Select Committee's letter and now Roth's confession, Martinez has another opportunity to make good on her pro-life campaign pledges.
Michael Lucchese works for the American Principles Project.